Moxibustion Therapy for Kidney Disease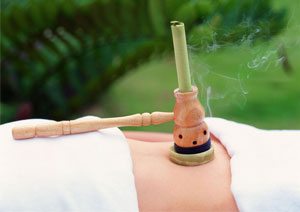 Use two doses of moxibustion recipe per day. Add moxa roll or moxa floss to the powder grinded for moxibustion.
Both manual moxibustion and full-automatic intelligent moxibustion bed can be used.
Short course of treatment for seven days, long course of treatment for 49 days.
short-term effects:
increased body resistance, relief of fatigue, increased appetite, improved sleep,
increased hemachrome, increased urine.
precautions:
Avoid scald.
Scarring-moxibustion is not suitable for using.
Moxibustion is not suitable for the empty stomach.
This therapy is inadvisable for pregnant women.
Summary
Removing stasis with joint treatments: cycle therapy with Chinese medicine, hot compress with Chinese medicine, full bath with Chinese medicine, enema with Chinese medicine, taking Chinese medicine orally (drawing out, cleansing, discharging, detoxicating, and draining)
(mixture of blood with elements) : foot bath with Chinese medicine, moxibustion with Chinese medicine (stimulating and adjusting)
Rebuilding the function: Combining the above two aspects together organically and use them alternately, making human body harmonious and balanced.
Top seven TCM therapies for kidney disease