Shijiazhuang Kidney Disease Hospital International Department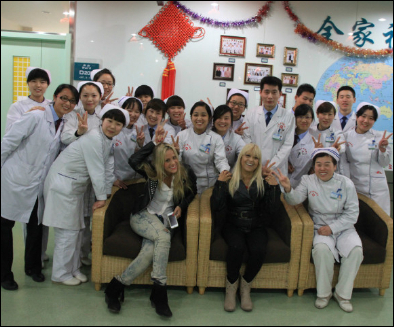 Shijiazhuang kidney disease hospital is located in the provincial capital Shijiazhuang of Hebei Province. Our hospital was founded in 1986, and after several tens of years development, it has been become a collection of medical treatment, teaching, scientific research institutions for the integration of new modern kidney disease treatment. Shijiazhuang kidney disease hospital is located in Feiyi Road No.5, which relies on Aquatic Park, the famous sight of Shijiazhuang. With the beautiful environment, Shijiazhuang kidney disease hospital is a good choice for the treatment and rehabilitation of kidney disease patients.
Shijiazhuang kidney disease hospital international department is founded in September, 2010. Now, there are 5 specialists, 13 doctors, 20 foreign-related nursing staffs, 4 interpreters, and we keep the class system for 24 hours. Building D is for existing international in-patient department, which has 35 star wards and the facilities are equipped, such as Wi-Fi, air-condition, whole-automatic laundry dryer, water dispenser, LCD TV, refrigerator, sofa, end table, water heater, independent of the kitchen and also equipped with kitchen ware and tableware.
Since the foundation of International Department, we have received a few hundred patients from more than 64 countries, and our clinical cure rate is more than 90%. Because of our great contributions to kidney disease patients, there are more and more kidney specialists came into our hospital to have interchange and many big academic exchanges. Most of the kidney specialists are from Japan, France, America and some other countries big famous hospitals.
International department have four rounds within a day, and during the ward inspections, there are usually 1 specialist, 3 doctors, 1 charge nurse, 1 full-time foreign-related nursing staff and 2-3 interpreters. In addition, we also have night ward inspections, which will helpful in finding the abnormal of patients promptly and have early treatment.
Our service:
1. One to one service
International department adopt a full-time nursing care with one patient to one nurse. Except the daily necessary care, our nurses also take charge of their diet, Psychotherapeutic Counselling, supermarket shopping, do out for a walk, laundry etc.
2. Once, life-long service
After the discharge of patients, we will have regular to visit patients, and guide the diet, as well as adjusting the drugs and return time.
3. Experts visit
There are 7 visiting experts shifts a day visit with a comprehensive observation and diagnosis and treatment, which can help ensure the patients in our hospital can get the best quality and the best treatment effect.
4. Airport Pick Up
depending on the different requirements of patients, we can have airport pick up for patients in Beijing airport, Shijiazhuang airport and Shijiazhuang railway station.
5. Priority Service
International patients will have the highest quality of service, check and treatment and life in our hospital. We will open the "green channel" for international patients, and make them feel in their own countries.