Equipment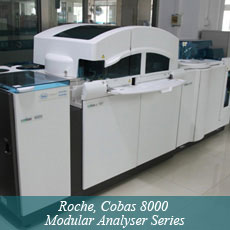 Roche, Cobas 8000 Modular Analyser Series
Detailed Information
The cobas 8000 modular analyser series is designed for high workload laboratories and it can cover a range of 3 up to 15 million tests per year. Configurations can be built of 4 analytical modules for clinical chemistry and immunochemistry testing (cobas c 701 module, cobas c 702 module, cobas c 502 module, cobas e 602 module) resulting in 38 tailor made configuration choices. With a peak throughput of 8,400 tests per hour and many innovative design elements to allow unrestricted sample flow and intelligent sample routing, it can analyse the patients' test more quickly and accurately. Then it can assistant the following treatment more efficiently.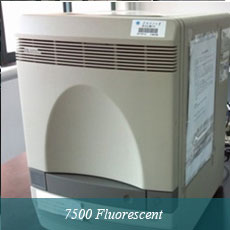 7500 Fluorescent Quantitation PCR
Detailed Information
7500 Fluorescent Quantitation PCR is a integration platform of specific target gene detection and quantitation. It combines PCR thermal cycle, fluorescence detection and various application analysis software, which can have a real-time quantitative observation to the PCR amplification product. After the test is finished, the quantitative results can be immediately gotten without gel electrophoresis analysis, purifying PCR product and any other experimental operation. 7500 Fluorescent Quantitation PCR has the advantages of saving time, high sensitivity, high accuracy and avoiding product contamination.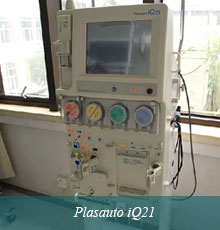 BN™ II System
Detailed Information
The BN II System and its nephelometric technology provide uncompromising performance in plasma protein analysis. The menu covers assays to support a variety of clinical indications, such as kidney diseases, nutritional assessment, cardiac risk assessment, and innovative markers. Cystatin C and Carbohydrate-Deficient Transferrin (CDT).
◆ Ideal for mid- to high-volume plasma protein throughput
◆ Broadest menu from any one source: Over 64 assay protocols available for determination of various sample types
◆ Up to 100 samples on board
◆ Antigen-excess security for confidence in results
What's more, BN™ II system plays an important role in analyse plasma protein analysis for kidney disease patient.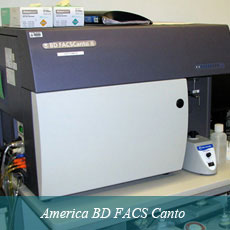 America BD FACS Canto II Flow Cytometer
Detailed Information
Built on more than 25 years of BD experience and leadership in flow cytometry and multicolor analysis, the BD FACS Canto II Flow Cytometer is an easy-to-use benchtop analyzer that delivers proven performance, accuracy, and high-quality results. The BD FACS Canto II Flow Cytometry system delivers flow cytometry data on an efficient user friendly platform. Its flexible modular design offers automation and up to eight-color capacity for rapid and easy production of high-quality data. It features many innovations for both clinical and research labs, including a true fixed-alignment flow cell to minimize startup time and improve reproducibility.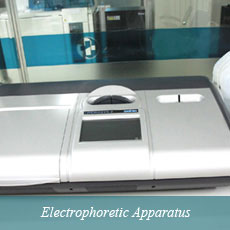 Electrophoretic apparatus
Detailed Information
An electrophoretic apparatus is equipped with three electrode chambers serially arranged and filled with buffer solutions respectively. Electrodes are arranged in said electrode chambers respectively, three filter paper supports are arranged above the spaces between the respective electrode chambers and above the central electrode chamber. A filter paper is mounted on the central filter paper support and having both ends dipped into the buffer solution contained in the central electrode chamber. Electrophoretic apparatus is so adapted as to form electrophoretic patterns of respective sera by electrically energizing a carrier onto which the sera are applied in two rows. This equipment is used to detect the glomerlar proteinuria and renal tubule proteinuria accurately.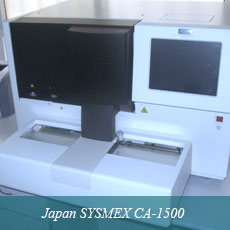 Japan SYSMEX CA-1500 Fully-automated Blood Coagulation Analyzer
Detailed Information
The Sysmex CA-1500 System is a fully-automated blood coagulation analyzer for in vitro diagnostic use that can quickly analyze large quantities of samples with a high-degree of accuracy. The Sysmex CA-1500 System can run clotting, chromogenic and immunologic assays. The analyzed data can be retained as stored data, displayed, or printed. The instrument offers a number of built-in features, such as automatic repeat, redilution, reflex testing and multi-dilution analysis (MDA). Priority processing capability is offered for STAT samples. Cap-piercing units are available on an optional basis.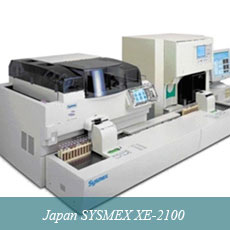 Japan SYSMEX XE-2100 Fully-automated Blood Analyzer
Detailed Information
The Sysmex XE-2100 is a haematology automated analyser, used to quickly perform full bloodcounts and reticulocyte counts. It is made by the Sysmex Corporation. It can be run on its own, or connected to a blood film making and staining unit. Racks of blood go in on a tray on the right, and come out the left side. The racks hold ten 4.5 mL tubes, and have a notch so they can only go in one way. Blood is sampled and diluted, and moves through a tube thin enough that cells pass by one at a time. Characteristics about the cell are measured using lasers (fluorescence flow cytometry) or electrical impedance. Because not everything about the cells can be measured at the same time, blood is separated into a number of different channels. In the XE-2100 there are five different channels: WBC/BASO, DIFF, IMI, RET and NRBC.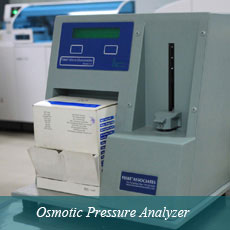 Osmotic pressure analyzer
Detailed Information
To provide an osmotic pressure analyzer capable of shortening the time until a sample liquid is brought to a supercooled state by utilizing the standby time of the container. The osmotic pressure analyzer is equipped with: the containers 2; a cooling tank 7; and a moving means 4. In the analyzer, the temperature of the sample liquid is detected by the thermistor 5 when the freezing stimulation due to vibration is applied to the sample liquid after being supercooled to convert the supercooled sample liquid into a solid-liquid coexisting state to measure the solidification temperature of the sample liquid. The osmotic pressure analyzer is able to evaluate the renal tubule concentration and dilution function, and help the doctor to detect whether the person's renal tubule is damaged.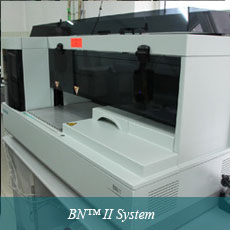 Plasauto iQ21
Detailed Information
Plasauto iQ21 is the most advanced blood purification equipment in the world, there are only three sets in China. It can be side that the application of Plasauto iQ21 is a breakthrough in the field of blood purification. It has the advantages of high-accuracy, high intelligence and more secure.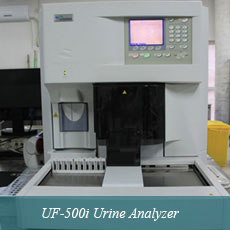 UF-500i Urine Analyzer
Detailed Information
The request for a urine status in the laboratory routine mostly concerns incoming orders within the scope of health checkups or screening tests, or problems relating to an existing urinary tract infection or possible haematuria. UF-500i with the advantageous semiconductor laser technology for the analysis of urine have been further developed especially in terms of the most frequent findings in urinalysis; and now, the systems excel in the following:
◆ reliably selecting out normal samples
◆ more sensitive detection of samples with indications of urinary tract infections
◆ better detection of haematurias
UF-500i Urine Analyzer can detect the accurate urine changes for the patients with kidney disease or other diseases.