Return to a Normal Life,a Girl with IgA Nephropathy
2014-01-16 17:33
Name: Liyao
Gender: Female
Age: 16
Country:
Diagnose: IgA nephropathy
Patient Word: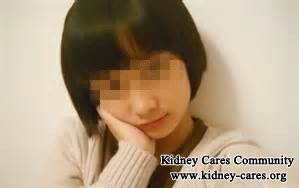 Liyao is from Xinjiang Province,China.She was diagnosed with class Ⅲ IgA nephropathy at age 14.After the diagnosis was confirmed,immunosuppressive drugs and hormones were prescribed.However,in the two years,the proteinuria and hematuria never became negative.The 24h urine protein was as high as 3g. What's worse, as long as infection attacked,edema became present over the whole body.The severe illness condition made her family worry her so much.She had been hospitalized in many renewed hospitals in China,but had no improvement at all.
Her family got to know our hospital through internet.At beginning,they did not trust us at all.However,under such circumstance,she had no other better choice.
Two years later after the diagnosis,she was admitted in our hospital for the first time.In our hospital,the combined treatment of western medicine and Chinese medicine were applied.The treatment effect of western medicine was to control the relieve the symptoms of IgA nephropathy.Chinese medicine can restore the impaired kidney tissues and cells to improve renal function.
After a period of treatment,the reexamination result revealed that the proteinuria turned negative.After being discharged from hospital, she still continued treatment at home. After a year's treatment, edema did not recure when colds and other infection occurred. She recovered completely.
Now Liyao is studying at a university in China. She can enjoy her life happily and fully.