Remarkable Improvement in PKD
2016-04-21 02:50
Name: Mahmud

Gender: Male
Age: 50
Country: Irag

Diagnose: Polycystic kidney disease
Patient Word: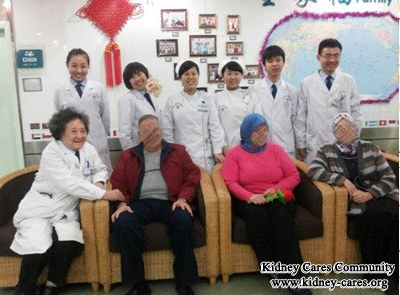 Mahmud is male and a man from Irag. He was diagnosed with polcystic kidney disease (PKD) several years ago. When he visited local doctors, they all told him they could not treat him until kidneys fail.
His doctor just prescribed him some pain medicines and medicines for high blood pressure. However, his condition had no improvement. His blood pressure elevated to 150/90mmHg, which made him feel dizzy all day long. The blood test revealed serum creatinine 370.
He said he had a very poor sleep and even could not fall asleep all night. His appetite was very bad. Also, anemia made him tired all day long. He had no energy to do anything.
Afflicted with serious discomforts, but no good treatment option, Mahmud came to China for treatment in December 2013.
In our hospital, seven TCM therapies are used to control his condition, in which Micro-Chinese Medicines Osmotherapy is the primary treatment. This therapy can stop the cysts from growing and also can shrink the large ones. More importantly, the effective medicines can stimulate the repairing of kidney structure.
After more than one month's hospitalization treatment, he has a remarkable improvement. Appetite was improved and serum creatinine declined to 320. After discharged from hospital, he has the consolidation therapy at home. Creatinine level reduced to 290 and blood pressure declined to 120/80mmHg. Hemoglobulin level reaches normal.