Chronic Glomerulonephritis,Creatinine Declines,Have Urine Again
2016-04-21 03:07
Name: Maddie
Gender: Female
Age: 22
Country: Kazakhstan
Diagnose: Chronic glomerulonephritis
Patient Word: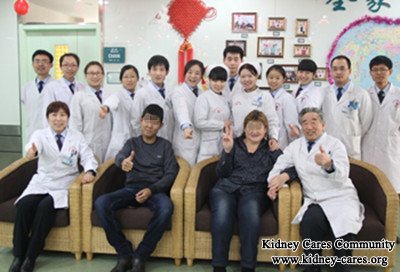 At age 9, Maddie got chronic glomerulonephritis due to flu. The checkup result revealed obvious protein and blood occult in urine. Blood pressure stared rise up. He also suffered serious acidosis. After a period of treatment, he had no improvement.
In the following several years, his renal function kept deteriorating progressively. Creatinine level increased to 800. He was prescribed to start dialysis treatment which only continued for 3 months. Then he performed Kidney Transplant in Sinkiang, China. However, the new kidney did not function well for a long time. Only one year after the transplant, creatinine and blood pressure stared to increase again. Creatinine reached 1600 and blood pressure elevated to 180/110 mmHg. His doctor just gave some medications to control blood pressure. To seek a more effective treatment, he came to our hospital.
In our hospital, regular dialysis, Medicated Bath, Foot Bath and Micro-Chinese Medicines Osmotherapy were given. After a period of treatment, he had a good improvement. However, after discharged from the hospital, he did not follow the doctor's treatment advice to continue his treatment. He only did the regular Dialysis treatment. Creatinine was ranging between 450 and 800.
In Jan. 2014, he came to our hospital again. The admission checkup showed creatinine 889 and BUN 27.7. His face was grey. He always felt chill and had no sweating. Poor appetite and no urine output.
In our hospital, a group of treatment methods were given. Micro- Chinese Medicines Osmotherapy, dialysis, Medicated Bath, massage and etc. A personalized treatment regime was made based on his specific illness condition.
After a period of treatment, he has a remarkable improvement. His appetite is improved and he eats much more than before. Acidosis is relieved. Blood pressure declines to 120/80mmHg. The more exciting improvement is that he has urine output now.