What Are Some Of Early Signs Of Anemia In Chronic Kidney Disease Stage 3
2015-11-05 02:13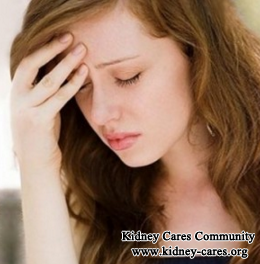 Chronic Kidney Disease (CKD) stage 3 is a moderate kidney damage and in this stage there is a decrease in glomerular filtration rate (GFR) 30-59ml/min. As kidney function declines, waste products can build up in the blood. In chronic kidney disease stage 3, a person is more likely to develop complications of kidney disease such as anemia and high blood pressure.
1. Symptoms of anemia may include:
Feeling weak
Feeling tired or fatigued
Shortness of breath
Dizziness
Rapid heartbeat
Pale skin and gums
Inability to think clearly
2. What causes anemia in chronic kidney disease stage 3?
When kidneys are injured, they cannot produce enough EPO. As a result, the bone marrow makes fewer red blood cells, causing anemia. When blood has fewer red blood cells, it deprives the body of oxygen it needs. Thus, you may experience early signs of anemia like weak, tired, dizziness, difficult in concentration and shortness of breath.
Besides, anemia can also come from blood loss from hemodialysis or low levels of nutrients like iron, vitamin B12 and folic acid.
3. How to deal with anemia in chronic kidney disease stage 3?
The root cause of anemia is damaged kidneys. Therefore, if there is a treatment which can repair injured kidneys, anemia will be relieved from the root. In our hospital-Shijiazhuang Kidney Disease Hospital, Four One Chinese Medicine Treatment can repair kidney damage and improve kidney function. This therapy includes Mai Kang Mixture, Medicinal Soup, Micro-Chinese Medicine Osmotherapy and Medical Foot Bath. You may one or all of them in Four One Chinese Medicine Treatment. It depends on your specific medical condition. The dosage and prescription is different from person to person. Thus, if you want to get your own treatment plan, you need to send your medical reports to kidneycares@hotmail.com or leave us a message below. Our renal experts will give you a treatment plan. What's more, all these therapies are natural and effective so you do not need to worry about their side effects. Four One Chinese Medicine Treatment is a systematic treatment to restore kidney damage and relieve anemia from the root.