Why Kidney Failure Patients Only Choose Shijiazhuang Kidney Disease Hospital
2015-11-20 08:11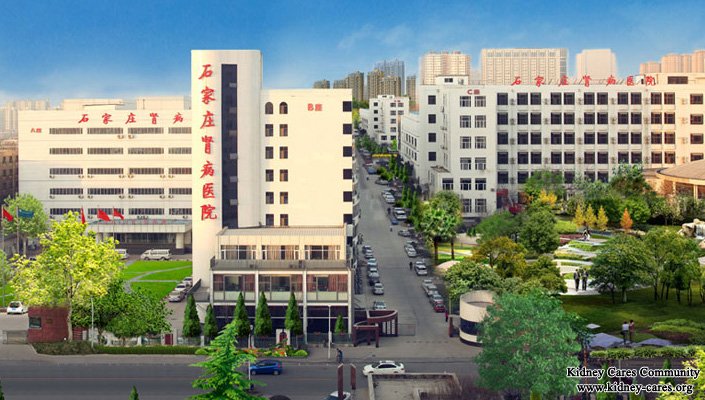 Why kidney failure patients only choose Shijiazhuang Kidney Disease Hospital? There are many hospitals for kidney failure. After the comparison, the final choice is our hospital-Shijiazhuang Kidney Disease hospital? What is the advantage of our hospital?
Shijiazhuang Kidney Disease Hospital with the following characteristics is recognized by more and more patients:
1. Long history
Since 1986, our hospital has been committed to delivering standard-setting medical care. As one of the largest kidney disease specialized hospital in China. We have treated kidney disease patients from more than 64 countries and after our systematic treatment, a combination of Chinese medicines and western medicines, they have received obvious therapeutic effect.
2. Characteristic Chinese medicine treatment
In our hospital, there are many Characteristic Chinese Medicine Treatments such as Micro-Chinese Medicine Osmotherapy, Four One Chinese Medicine Treatment, Stem Cell Therapy, Blood Pollution Therapy, Immunotherapy and Seven Therapies for External Application, etc. All these have specific curative effects on kidney failure patients. Besides, they are natural and have no side effects so patients can take them safely.
3. Our all-round and high quality service
We provide services from all aspects including:
Consultation service
Visa, invitation letter service
Shuttle service
Hospitalization service
Accompany service
Translation service
4. Powerful and professional experts
We have many professional experts like Ren Lidan, Jia Yinghui, Zhao Yansuo, etc. For their detailed information, you can click Team Of Experts http://www.kidney-cares.org/our-hospital/expert.html.
5. Most reliable Kidney Disease Hospital
In January 6th , 2014, at an awarding ceremony hosted by sina.com, Shijiazhuang Kidney Disease Hospital was rewarded as one of the most reliable kidney disease hospitals in China.
6. Our benevolence for poor patients
Shijiazhuang Kidney Disease Hospital cooperates with the Foundation of Red Cross to help poor patients to get Chinese Medicine Treatments.
More and more kidney failure patients choose our hospital with the above reasons. If you have any doubt, you can leave us a message below or consult our online doctor directly. Our experts will explain it in detail.