I Am Happy Now: From Despair To Surprise
2016-05-23 03:19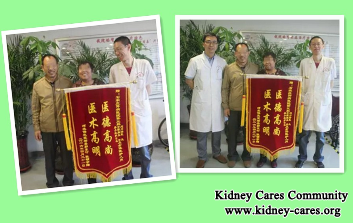 This man is uncle Zhang. His wife, aunt Bian Suffers from kidney disease. They come to our hospital for recheck up and also express their thanks to our hospital-Shijiazhuang Kidney Disease Hospital.
Let's listen to their story.
I feel very despaired with 13 years of treatment experience.
Aunt Bian was diagnosed with Nephritis. To treat her disease, uncle Zhang accompanied aunt Bian to many hospitals. But there was no improvement. Her condition became worse and worse. Eventually uremia occurred. This let uncle Zhang see no hope. He felt very despaired.
Uncle Zhang lighted up the hope.
Uncle Zhang did not want to give up his wife. Through his classmate, they decided to come to Shijiazhuang Kidney Disease Hospital for a try.
When they came to our hospital, we made a systematic treatment plan for her condition. 10 days later, her high creatinine level was reduced to 200 from 1200umol/L. This really surprised uncle Zhang.
With her improvement, uncle Zhang saw life hope again and now they feel very happy. They come to hospital for recheck up regularly. Look, they send us a silk banner for thanks this time. They will be happy forever.
Our Treatment Effect
High creatinine level is dangerous to a kidney patient
Move the mouse to enlarge the picture
If you also want to reduce your high creatinine level, please look at this patient's report. When he was just hospitalized in our hospital on Dec 11, 2018,
His creatinine:1028umol/L,
urea: 39.7mmol/L
UA : 513umol/L
After a period of our treatment,
his creatinine:331umol/L, urea:16.1mmol/L
UA :325umol/L on Jan 5, 2019.
His condition was getting better and better. You can also get better.
For a CKD patient, you can choose Chinese medicine treatments to control your condition. your creatinine level can be reduced radically, symptoms can be alleviated and more importantly, your renal function will be improved. In this way, you can stay away from end stage kidney disease and avoid dialysis.
Latest Articles
Uncle Duan is from Jiang Xi Province, China, a
Is it possible to reduce vomiting if creatinin