Can Chronic Kidney Disease Stage 3 Patient Take Tumeric
2016-11-04 03:27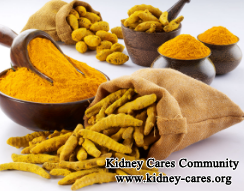 Chronc Kidney Disease (CKD) is a growing concern worldwide. In stage 3 CKD, signs and symptoms begin to occur. Research suggests that turmeric compounds may help prevent the development or progression of CKD. Follow us to see the details.
1. Prevent inflammation
Inflammation plays an important role in progression of kidney disease leading to kidney failure. An experimental study was conducted to evaluate the role of curcumin in treating inflammation in kidney failure.
2. Prevent the renal cyst formation
As for Polycystic Kidney Disease (PKD), it leads to formation of multiple cysts in the kidney. These cysts are filled with fluid and they cause massive swelling of the kidney. It is studied that curcumin has the inhibitory effect on renal cyst formation. Curcumin slows down cyst enlargement in both the cell lines. Curcumin did not cause any toxicity or cell death. In summary, curcumin can prevent cyst formation and enlargement and thus prove to be a suitable drug to PKD.
3. Decrease the concentration of immune complexes in blood serum
Immune complex is a unit in which antigen binds to antibody and sometimes it is too small to be removed from the system. In this condition, the immune complexes cause inflammation. Inflammation can cause further kidney damage. Thus, it is very important to remove immune complexes out. Curcumin in tumeric can decrease the concentration of immune complexes in blood serum. It also proves that curcumin shows significant reduction in immune cells and other factors which promote inflammation.
4. Treat Diabetic Nephropathy
Long standing diabetes can cause kidney damage. This is called Diabetic Nephropathy. when blood sugar level rises above the capacity of the kidney to filter it, the renal function is disturbed and volume of urine excreted increases. This disease is marked by oxidative stress in renal tissues. Research study is designed to prove curcumin can attenuate both renal dysfunction and oxidative stress, thus presenting its potential to treat diabetic nephropathy.
5. Treat kidney stones
Kidney stone is an aggregate of minerals found in the kidney. If they are small in size, they pass out of the body through urine but large kidney stones can block the ureter and cause pain. It is reported that curcumin in combination with a chemical isolated from natural source can prevent and treat kidney stones. Also kidney function can be improved by curcumin treatment. The antioxidant property of curcumin is found to reduce the oxidative stress and lipid peroxidation caused by calcium kidney stones.
Tumeric can be used as a treatment for stage 3 chronic kidney disease. If you want to learn more information, you can leave a message below or consult our online doctor directly. We will reply you as soon as possible.