How To Treat Stomach Bloating In Stage 3 Chronic Kidney Disease
2015-11-13 06:33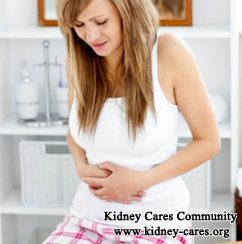 Stomach bloating is a common compliant suffered by millions of stage 3 chronic kidney disease (CKD) patients. Stomach bloating is that uncomfortable overstuffed feeling that most of us have experienced at one time or another. In order to treat stomach bloating in kidney disease properly, you need to find out what is your bloat trigger. The common causes of stomach bloating are:
1. Fluid retention/water retention
Damaged or diseased kidneys fail to discharge excess fluid from the body. In this condition, excess fluid can build up in spaces between cells. Quite often a bloated abdomen may be accompanied by puffy eyes and swollen ankles. To stop bloating or at least reduce stomach bloating, diuretics can provide temporary relief and reduce bloating but are not always the best solution as they can cause dehydration and dizziness. If you are in the habit of adding salt to meals, try switching to low sodium alternatives such as Losalt which contains 66% less sodium than regular salts. But you should pay attention to its potassium level if you have high potassium level in blood.
2. Irritable bowel syndrome
Irritable bowel syndrome is often seen in kidney disease patients. Stomach bloating can be severe in all sufferers of irritable bowel syndrome and can accompany both diarrhea and constipation. It is important to eat regular small meals, drink plenty of water.
3. Polycystic kidney disease (PKD)
If your stomach bloating is due to PKD, stomach bloating should be treated by shrinking kidney cysts.
No matter your stomach bloating is caused by fluid retention, irritable bowel syndrome or PKD, the root cause is all kidney damage. If kidney damage can be treated, stomach bloating will be managed from the root. Micro-Chinese Medicine Osmotherapy can repair kidney damage and kidney function through dilating blood vessels, preventing inflammation and coagulation, degrading extracellular matrix, improving blood circulation and providing nutrients. What's more, Micro-Chinese Medicine Osmotherapy can restrain renal epithelial cells from secreting cystic fluid any more, thus stopping cyst growth. Meanwhile, Chinese medicines can increase blood circulation and improve the permeability of cystic wall. Thus, cystic fluid can be reabsorbed into blood vessels and then cystic fluids can be removed by kidneys as urine.
Stomach bloating can be caused by several factors so the treatment will be different. You should find out the causes and then treat bloated stomach properly.
Our Treatment Effect
High creatinine level is dangerous to a kidney patient
Move the mouse to enlarge the picture
If you also want to reduce your high creatinine level, please look at this patient's report. When he was just hospitalized in our hospital on Dec 11, 2018,
His creatinine:1028umol/L,
urea: 39.7mmol/L
UA : 513umol/L
After a period of our treatment,
his creatinine:331umol/L, urea:16.1mmol/L
UA :325umol/L on Jan 5, 2019.
His condition was getting better and better. You can also get better.
For a CKD patient, you can choose Chinese medicine treatments to control your condition. your creatinine level can be reduced radically, symptoms can be alleviated and more importantly, your renal function will be improved. In this way, you can stay away from end stage kidney disease and avoid dialysis.