How Can An Enema Therapy Help My Kidneys with CKD Stage 3
2014-12-14 03:51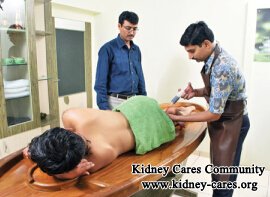 Enema therapy is a kind of traditional Chinese medicine therapy. Recently, this therapy is applied it into kidney disease treatment and achieve a good curative effect. "I have CKD stage 3. How can an enema therapy help my kidneys?" Go on reading, you will learn more information about enema therapy.
Brief introduction about enema therapy
Enema therapy is to penetrate Chinese medicine that helps bowel movement into the intestinal tract with the help of certain devices. Besides kidneys, there are many detoxification organs in our body, one of which is intestinal tract. Enema therapy just takes advantage of intestinal tract to remove waste produces and toxins from your body.
Enema therapy for CKD stage 3
When your kidney disease develops to stage 3, some waste and toxins begin to build up in the blood. Enema therapy helps you detoxify the blood so as to prevent further damage. According to TCM theory, intestinal tract is associated with lung and lung is related with kidneys. As long as your intestinal tract works normally, your lung function improves. In turn, your kidneys regain their ability.
Enema therapy is just one of our characteristic treatment. There are also circle therapy, steam therapy, hot compress therapy, medicated full bath, medicated foot bath, acupuncture and moxibustion. If you are interested in our treatment, please feel free to contact online doctor or leave a message below. When treating CKD, we often use some of them together. They can not only detoxify the blood, but also speed up blood circulation, remove stasis and increase blood into the kidneys so as to set up a good blood environment to help kidneys repair themselves.
The above therapies are just external therapies. External therapies should go together with oral medicine. Only in this way can you achieve a good therapeutic effect. Your disease is still in stage 3. It is possible for you to reverse the disease with early treatment. Hope you can live a normal life.