How To Get Better Kidney Function With CKD Stage 3
2014-03-30 13:53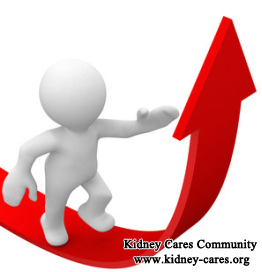 The National Kidney Foundation(NKF) divided kidney disease into five stages. When the doctor knows which stage of kidney disease a person is, they can provide the best treatment. For stage 3 chronic kidney disease(CKD), a person may develop complications of kidney disease like high blood pressure, anemia and bone diseases, etc. Thus, to control the complications is one way to get kidney function better with CKD stage 3.
1. Why does kidney damage cause various symptoms?
A person in stage 3 CKD has kidney damage with a moderate decrease in the Glomerular Filtration Rate(GFR) of 30-59ml/min. As kidney function declines, wasters and toxins can build up in the blood causing a condition knowns as uremia. Also many disorders occur and then lead to many complications of kidney disease. The signs or complications such as high blood pressure, hematuria, proteinuria and anemia occasionally make patients die quicker than kidney disease itself. Thus, controlling corresponding symptoms is vital for kidney disease patients.
2. Tightly control symptoms to make kidney function better
High blood pressure
High blood pressure is not only a leading factor to kidney disease, but also do further damages on kidneys if left uncontrolled. It is necessary for CKD stage 3 patients to lower down high blood pressure in conjunction with ACE inhibitor and follow a low sodium and salt diet.
Proteinuria
ACE inhibitor to control high blood pressure is also helpful for alleviating protein in urine. Also a restricted protein intake. The recommended protein intake for patients with kidney disease is 0.8g/kg per day. Besides, a high quality protein intake is essential for body healthy.
In addition, other symptoms like edema, hematuria and poor appetite as well as vomiting, etc should all be kept under control. Moreover, traditional Chinese medicine may be another better treatment to make kidney function get better, because it can promote patients' self-repairing ability to treat kidney disease.
In a word, through controlling symptoms and Traditional Chinese medicine, kidney function with Chronic Kidney Disease 3 can get better. If you want to make your kidney function get better, you can leave a message to kidneycares@hotmail.com, and we will reply you as soon as possible.