Can Stage 3 Kidney Disease Make You Tired
2015-01-03 07:38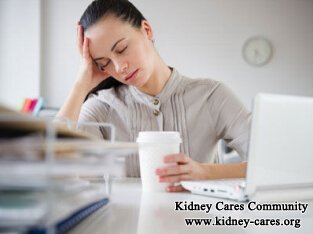 I have stage 3 kidney disease and am tired all the time. Is tiredness associated with stage 3 kidney disease? Doctor said that being tired is the number one compliant of patients they see. Well, what can cause tiredness in stage 3 kidney disease?
Tiredness can be caused by the following reasons:
1. anemia
Anemia is common in stage 3. One of its major complications is tiredness. Normally, kidneys will produce a hormone called erythropoietin (EPO) which helps make red blood cells that carry oxygen. In case of stage 3 kidney disease, the kidneys have been moderately damaged, so they will make less EPO. EPO tells the bone marrow to produce less red blood cells. As a result, patients will experience anemia, a short supply of red blood cells. besides, the body has less oxygen. This makes people more tired and fatigue as well as unable to concentrate.
2. wastes in the body
In stage 3 kidney disease, more and more toxic and wasteful substances will accumulate in the body, causing many discomforts on patients like fatigue, vomiting, nausea and tiredness.
3. declined kidney function
The root cause of tiredness is declined kidney function. Kidney function has close relation with the secretion of waste products and the health of other body parts.
If they want to get rid of tiredness fundamentally, you should treat kidney disease from the root. That is to say, you should repair damaged kidneys and improve renal function. Only when kidney function is improved, can extra wastes be secreted out of the body naturally and radically. Chinese Medicines can dilate blood vessels, promote blood circulation, eliminate the toxic substances out of the body completely by repairing kidney damage and improving renal function.
Apart from Chinese medicines, a renal diet is also necessary. Due to different illness condition, we cannot give you an exact diet plan without knowing your medical condition. If you want to get your own diet plan, you can leave us a message to kidneycares@hotmail.com or consult our online doctor.