How to Deal with Bloody Urine and Chronic Kidney Disease Stage 3
2014-07-14 07:01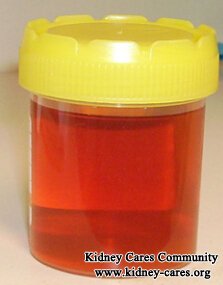 Bloody urine is not uncommon for people with Chronic Kidney Disease Stage 3. And there are two kinds of bloody urine, namely microscopic hematuria and gross hematuria. How to deal with bloody urine and chronic kidney disease stage 3?
What causes bloody urine for people with Chronic Kidney Disease Stage 3?
Red blood cells which should be retained in the body leak into the urine, resulting in bloody urine. There are many factors to contribute to the leakage of red blood cells. One is the inflammation of the kidneys' filtering system. One is kidney infections, which occurs when bacteria enter your kidneys from your bloodstream or move up from your ureters to your kidneys. Urinary tract infection, kidney stone, kidney injury and strenuous exercise can also give rise to bloody urine.
Treatment for bloody urine
Under normal circumstance, bloody urine has no specific treatment. But you should stay in bed and have a good rest until the blood disappears in the urine. Besides, you should drink moderate water to help remove the blood from your bladder in case that they become clotted and obstruct urethra.
What is more, you should treat the underlying condition. Micro-Chinese Medicine Osmotherapy can expand blood vessels and block blood clotting to improve blood circulation so as to transport enough oxygen and nutrient to the kidneys. It can also eliminate the inflammatory factors so as to reduce the kidney inflammation. Besides, it can degrade extracellular matrix to stop kidney fibrosis. With the improvement of kidney function, blood will disappear from urine.
Chronic Kidney Disease stage 3 means there is moderate damage to your kidneys. Bloody urine is just one of them. With appropriate treatment, it is possible for you to live a healthy life and keep away from dialysis or kidney transplant.