Low Blood Pressure 112/55 And Stage 3 CKD
2014-03-27 10:09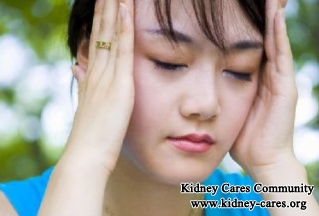 Low blood pressure in Stage 3 Chronic Kidney Disease(CKD) is suffered by some patients. They usually feel fatigue, dizziness and tiredness which greatly affects their daily life. One of our patients sends her message to our mail box kidneycares@hotmail.com to ask us to help her know the causes and treatment of low blood pressure 112/55 in stage 3 CKD.
First, we will tell her the causes of low blood pressure in stage 3 CKD.
We know our kidneys have the ability of secreting various hormones. One is called erythropoietin that is responsible for helping bone marrow produce red blood cells. In CKD stage 3, the kidney's function has been moderately damaged, and this secreting function is also damaged. Thus, there will be less erythropoietin production and red blood cells. In this condition, anemia will appear in CKD stage 3.
Another cause of low blood pressure is that diet restriction will develop malnutrition. Lack of vitamin and iron will also lead to anemia, thus causing low blood pressure.
Second, we will discuss the treatment for low blood pressure.
1. Healthy diet plan
You should see a dietitian to ask for a healthy diet plan to supplement necessary nutrients. Also it is convenient for you to consult our online doctor directly.
2. Medical treatment
This medical treatment works to treat stage 3 chronic kidney disease and improve kidney function. Which medication does have this goal? It is Chinese medicine remedy. The ingredients in Chinese medicines can provide nutrients for alleviate renal ischemia and hypoxia. Moreover, they can also restore damaged kidney tissues and rebuild kidney structure as well as activate injured but not necrotic cells. Through these functions, kidney damage can be alleviated and kidney function can be improved. With elevated kidney function, anemia can be relieved and low blood pressure is also treated relatively.
Do not be frighted by kidney disease. Taking timely and effective treatment is what you should do. Learn more about Chinese medicine healing kidney problems, and you can learn about your question below and we will reply you.