Does Lethargy Occur In Stage 3 Chronic Kidney Disease
2014-03-13 10:48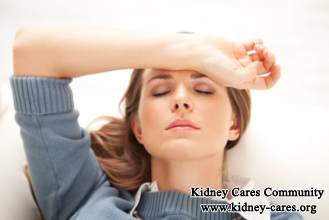 Does stage 3 chronic kidney disease(CKD) lead to lethargy of patients? Most people are not aware of the fact that kidney disease can be silent killers. They may not show nay symptoms for a long time till the situation becomes critical. Even young people tend to suffer from it. It is important to recognize the symptoms of kidney disease so as to catch them early. Then is lethargy a symptom of stage 3 CKD on earth?
Many kidney disease patients tell us that they have no energy and just want to sleep or rest. This may be one sign of lethargy and one symptom of kidney disease. Then why do kidney disease, especially stage 3 CKD patients have lethargy?
What is the reason of lethargy in stage 3 CKD?
Kidneys are responsible for secreting erythropoietin which is able to stimulate bone marrow to generate red blood cells. Once the kidneys are damaged, this function will be affected. However, our kidneys have strong compensatory ability. That is to say, symptoms will not appear until more than half of kidney function has been damaged. Also this is the reason why patients in stage 1 and stage 2 kidney disease experience no obvious symptoms. In stage 3 chronic kidney disease, the kidney function has been moderately damaged and the function of secreting erythropoietin is badly damaged, causing very low red cell count. In this case, cells and body can not receive adequate blood and energy supply, and this is the reason why stage 3 chronic kidney disease patients have obvious lethargy.
Another reason of lethargy in stage 3 CKD is lack of iron and folic acid. Accumulated wastes and toxins lead to poor appetite, nausea, vomiting, discomforts and hemorrhage, which are possible cause of iron and folic acid deficiency. It can worsen renal anemia and cause lethargy.
The above information tells the reason why lethargy occurs in stage 3 CKD. The root cause of lethargy is damaged kidney and declined kidney function. Thus, in order to alleviate lethargy, you should repair your damaged kidney tissues and improve kidney function. As for repairing kidney damage and improving kidney function, you can consult our online doctor or leave your message to kidneycares@hotmail.com.