Can Stage 3 CKD Patients With High Blood Pressure Take Cassia Seed
2014-03-11 13:43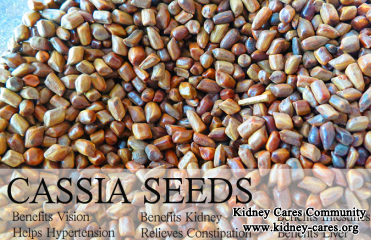 Can stage 3 chronic kidney disease(CKD) patients with high blood pressure take cassia seed? High blood pressure is a leading factor of kidney disease and kidney failure. And as a traditional Chinese medicine, cassia seed, or called Jue Ming Zi in Chinese name, provides with a lot of health benefits. What is cassia seed good for stage 3 CKD patients with high blood pressure? Follow us to find the answer.
First, cassia seed is good for lowering high blood pressure.
Cassia seed has been proven that it has the function of lowering high blood pressure. Controlling high blood pressure is able to slow down the progression of chronic kidney disease and protect residual kidney functions.
Second, cassia seed is able to lower blood fat.
CKD patients tend to have hyperlipidemia. In this case, taking cassia seed remedy is helpful for reducing plasma cholesterol and triglyceride as well as decrease the amount of triglyceride in the liver.
Third, cassia seed can improve sleep quality of kidney disease patients.
Because of frequent urination and itchy skin, kidney disease patients usually have a poor sleep quality. In view of this, cassia seed pillow can tremendously improve sleep quality by removing heat and soothing the nerves.
Fourth, cassia seed does a lot for treating constipation.
Due to limitation on water intake or lack fo fiber foods, stage 3 chronic kidney disease patients often have constipation. Cassia seed can be used as a laxative to relax bowel and treat constipation.
As mentioned above, cassia seed is helpful for stage 3 chronic kidney disease, especially high blood pressure. Keeping high blood pressure under control contributes to delaying the progression of kidney failure. But it does not mean all stage 3 CKD patients can take cassia seed. For patients with diarrhea and stomach pain, they should avoid taking cassia seed. To make it safe, stage 3 CKD patients should consult their doctors before taking cassia seed.