Why Does Stage 3 CKD Patients Have Bloating Stomach
2014-03-10 15:31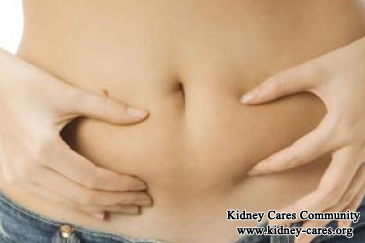 Stage 3 Chronic Kidney Disease(CKD) patients usually experience some symptoms like bloating stomach. Then why does patients with stage 3 CKD have bloating stomach? The following article is more likely to give you the reason of bloating stomach.
How does stage 3 CKD patients have bloating stomach?
Chronic kidney disease is a progressive kidney disease. And with the progression of kidney disease, kidney function is lost gradually. With the decline of kidney function, many symptoms may occur due to the following reasons:
1. Fluid retention
Fluid retention is the leading cause for stage 3 CKD patients to suffer from bloating stomach. This is because damaged kidneys fail to remove excessive water out of the body, causing water retention. Fluid or water retention usually occurs in the body parts with loose tissues like eyelids, face, ankle, limbs and testis at the very beginning. However, with the progression of illness conditions, this may spread to your whole body. Bloating stomach occurs when lots of fluid accumulate in the abdomen.
2. Polycystic kidney disease(PKD)
Polycystic kidney disease is a genetic kidney disease in which multiple cysts filled with fluid cover the kidneys. The fluid collection enlarge over time and if left untreated, they will take up the whole kidney and even the whole enterocoelia, causing bloating stomach.
How to deal with bloating stomach in stage 3 CKD?
For bloating stomach caused by fluid retention, follow a low salt or sodium diet is necessary. If the fluid retention is severe, dialysis and other blood purification techniques is needed to remove excess water. However, the treatment effects are temporary. To avoid reoccurrence of bloating stomach, improving kidney function is the key point.
If stomach bloat is caused by polycystic kidney disease, shrinking kidney cysts will be the key point. In western countries, when the cysts are big enough, cysts are removed by surgery, which is helpful, but fails to treat kidney disease from the root. Thus, if you want to treat PKD radically, Micro-Chinese Medicine Osmotherapy is recommended. This treatment can make the outer and inner pressure different. In this way, cystic fluid seep out and kidney cysts will get shrunk.
In a word, stage 3 chronic kidney disease patients is more likely to experience bloating stomach due to fluid or water retention and polycystic kidney disease. And both of these are caused by damaged kidney function. In this light, improving kidney function is the key point for avoiding reoccurrence of stomach bloat.