Stage 3 Kidney Disease Symptoms:Fatigue And Nausea
2013-09-10 10:08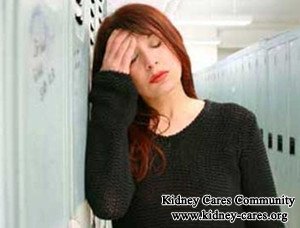 Fatigue and nausea are common complaints in stage 3 kidney disease.Read on to find the causes and ways to manage them.
Causes of fatigue and nausea in stage 3 kidney disease
Anemia is the major culprit of fatigue in stage 3 kidney disease. It is a condition in which the number of red blood cells is lower than normal.Healthy kidneys can produce EPO which can stimulate the production of red blood cells.However,when the kidneys are impaired, they will fail to make EPO normally.As a result,less red blood cells will be made,thus giving rise to anemia.Red blood cells can carry oxygen to body tissues and cells over the whole body. Without enough oxygen supply, the patients will become tired easily. That is how fatigue occurs in stage 3 kidney disease.
Causes of nausea in stage 3 kidney disease
In stage 3 kidney disease,high levels of wastes and toxins will build up in body.The uremic toxins will irritate gastrointestinal tract,thus leading to nausea.In addition,if the gastrointestinal tract is flooded with fluid, it also can contribute to nausea.
Ways to deal with fatigue and nausea in stage 3 kidney disease
As fatigue is mainly due to anemia,the primary treatment goal is to treat anemia.Generally,artificial EPO is injected.It can stimulate the bone marrow to produce red blood cells,thus increasing the total number of red blood cells.In addition, increased supplement of iron and folic acid may be recommended.
If serious nausea occurs,medications may be prescribed to control it.However,as mentioned above,nausea is due to high accumulation of uremic toxins in body.To control nausea completely,the primary treatment is to remove wastes from body. One way is to increase the excretion of wastes from body. Some herbal medicines like rheum officinale have the above function.To know more information about herbs which can increase the excretion of wastes,you can chat with our live medical professional now.
Another way to increase removal of wastes from body is to restore the impaired kidney structure and enhance renal function. Micro-Chinese Medicines Osmotherapy can stimulate the self-regeneration of impaired kidney tissues, thus resulting renal function improvement. Thereby, the nausea will be controlled fundamentally.