How Serious Is Third Stage Kidney Disease
2015-08-08 03:34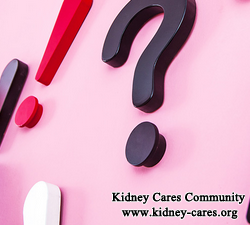 Chronic Kidney Disease (CKD) is a progressive loss in renal function over a period of months or years. There are five stages based on measured or estimated GFR (glomerular filtration rate). How serious is third stage of CKD?
1. What is third stage kidney disease?
Stage 3 kidney disease means moderate kidney damage. This stage is broken up into two: a decrease in glomerular filtration rate (GFR) for stage 3A is 45-59ml/min and a decrease in GFR for stage 3B is 30-40ml/min.
2. What will happen in third stage kidney disease?
Stage 3 kidney disease usually does not happen overnight. Someone's kidneys may stop working due to an injury, but they can also stop working because of disease, and sometimes this may happen so slowly that you may not even realize that you have kidney disease. In stage 3 kidney disease, some symptoms will happen, including:
Swelling in the hands, feet or face
Lower back pain
High blood pressure
Dark or foamy urine
A burning sensation during urination, or a discharge that causes burning
Frequent urination at night
3. How to treat stage 3 kidney disease?
With stage 3 kidney disease which is also known as moderate kidney disease, you still have options available that can slow the progression of the disease by adopting a healthy lifestyle and taking some medications.
Diet and third stage kidney disease
Restricting sodium intake for people with high blood pressure or fluid retention by cutting out processed and pre-packaged foods.
Limiting saturated fats to help lower cholesterol
Limiting phosphorus to help PTH levels remain normal, prevent bone disease and even preserve existing kidney function
Diabetes patients should cut back carbohydrates.
If calcium level is high in blood, you should limit calcium.
Medications and third stage kidney disease
Diabetes and high blood pressure are two leading causes of kidney disease. By keeping glucose level under control and lowering high blood pressure, this can help them preserve kidney function. A doctor will likely prescribe a blood pressure medicine. ACE inhibitors and ARBs help slow the progression of kidney disease even in people with diabetes who do not have high blood pressure.
Besides, Chinese Medicine Treatment include Micro-Chinese medicine osmotherapy, Mai Kang Mixture, Medicated Bath, Steaming Therapy and Enema therapy, etc can not only control the symptoms but improve kidney function. If you want to get detailed information, please leave a message below.
Our Treatment Effect
High creatinine level is dangerous to a kidney patient
Move the mouse to enlarge the picture
If you also want to reduce your high creatinine level, please look at this patient's report. When he was just hospitalized in our hospital on Dec 11, 2018,
His creatinine:1028umol/L,
urea: 39.7mmol/L
UA : 513umol/L
After a period of our treatment,
his creatinine:331umol/L, urea:16.1mmol/L
UA :325umol/L on Jan 5, 2019.
His condition was getting better and better. You can also get better.
For a CKD patient, you can choose Chinese medicine treatments to control your condition. your creatinine level can be reduced radically, symptoms can be alleviated and more importantly, your renal function will be improved. In this way, you can stay away from end stage kidney disease and avoid dialysis.