What is Life Expectancy of Patients at Stage 3 CKD
2014-03-12 16:03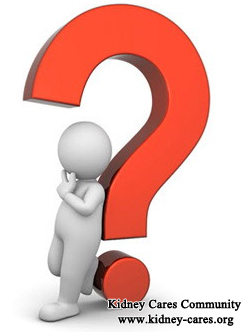 As is known to us, chronic kidney disease (CKD) has five stages. Stage 3 CKD lies in the middle place. Some patients at stage 3 CKD are very concerned about their life expectancy. To help them solve this question, here we will give a specific analysis about stage 3 CKD.
Primarily, let's have a general knowledge of stage 3 CKD.
During stage 3 CKD, GFR falls to 30-59ml/min. Kidney function decreases moderately. Many wastes and toxins build up in body. Many complications and symptoms will occur, as following:
High blood pressure
Anemia
Slight bone disease
Fatigue
Sleeping problems
Urinary abnormality
Pain in kidney
From the above conditions at stage 3 CKD, we can know that there are no obvious life-threatening diseases or complications. Thus, generally speaking, patients at stage 3 CKD don' t have to worry about their life too much. Nevertheless, stage 4 and 5 CKD are the most dangerous, and patients at stage 4 or 5 may need to do dialysis or kidney transplant to replace kidney function. Besides, complications like cardiovascular problems and heart disease can threaten patients' life. So stage 3 CKD plays a very important role in preventing deterioration of CKD from developing into stage 4 or 5. If patients at stage 3 CKD want to have longer life expectancy, prevention of stage 3 from deterioration is very significant.
Now let's see how to prevent stage 3 CKD from progressing into stage 4 CKD.
The fundamental cause of CKD deterioration is kidney damage and decline of kidney function. Patients at stage 3 CKD can get good effects on restoration of kidney damage and recovery of kidney function with Chinese herbal medicines treatment. It is proved that Chinese herbal medicines have good properties of repairing kidney damage and recovering kidney function, and the process is below:
1. Prevention of inflammation in kidney
2. Enhancement of immune system
3. Promotion of blood circulation
4. Settlement of microcirculatory obstruction
5. Supplement of nutrients
With these five treatment, patients at stage 3 CKD can prevent further decline of kidney function.
Besides, patients at stage 3 CKD also need to pay attention to treatment for complications and symptoms, for instance, controlling high blood pressure, alleviating bone problems and proteinuria.
Only in this way, can patients at stage 3 CKD prolong life and live a better life. If you have any question, please contact us freely and we are very glad to make a specific reply according to your conditions.