The Vegetarian Diet and CKD Stage 3
2016-01-12 01:50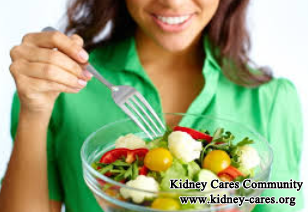 For stage 3 CKD, it is very necessary and important to have a restricted diet in life, which is good for controlling disease condition. This time we will mostly introduce vegetarian diet for stage 3 CKD.
At first, patients with stage 3 CKD should have a low protein diet. But also, enough protein for health is necessary. The below can be good sources of vegetarian protein for stage 3:
Soy products, bean an lentil, egg, dairy food, and grain.
Then low phosphorus, low potassium and sodium is needed in meals. Vegetables and fruits are beneficial for patients with stage 3 CKD, and they should avoid those high in phosphorus and potassium. Avoid or limit salt in diet is needed.
The good effects of vegetarian diet for patients with stage 3 CKD:
1. alleviate protein in urine and improve kidney function.
2. promote blood circulation.
3. relieve growth of kidney cyst.
4. keep a good weight and shape, preventing high blood pressure and heart disease.
Though it is known that high quality protein is in meat, many kinds of vegetables can also help meet essential amino acids in high quality protein. As for calcium, iron or vitamin D and B12, these can be supplied by taking supplements. In this way, vegetarian diet can also keep patients with stage 3 CKD healthy very much, and avoid harm from meat food.
In conclusion, it is suggested for patients with stage 3 CKD to have a vegetarian diet, which is more helpful for managing disease conditions. If you do not have a good diet plan, you can take vegetarian diet into consideration. Any question or help, you can leave a message or contact our online doctor anytime. We will reply you very soon in detail.