Food To Avoid With Stage 3 Chronic Kidney Disease
2015-11-04 07:15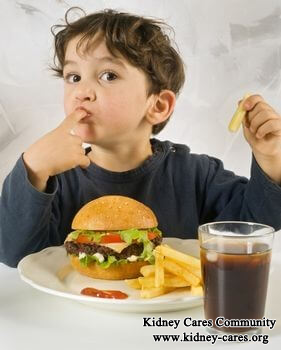 What foods should be avoided by people with stage 3 chronic kidney disease (CKD). Stage 3 chronic kidney disease creates different needs in the body for someone with healthy kidneys, and it therefore requires a special diet. Some kidney unfriendly foods should be avoided by someone with stage 3 CKD. In this article we will tell you foods to avoid with stage 3 CKD.
1. Processed and fast foods
Processed and fast foods are often high in salt, sugar and unhealthy fats. Avoiding these is a good idea for anyone with kidney problem. Processed and fast foods include chips, crackers and cookies as well as prepackaged frozen meals, canned soups and other convenience foods. However, low sodium canned or frozen vegetables and fruits packed without added sugar are a good option when fresh produce is not available.
2. Avoid foods with too much foods
When you experience kidney problem, you may need to limit the amount of protein because too much protein intake can make kidney problems worse. In general, people with chronic kidney disease stage 3 should limit daily protein intake to about 0.36 to 0.45g per pound of body weight.
3. Avoid foods with high phosphorus and potassium
With stage 3 chronic kidney disease, phosphorus and potassium can build up in the blood when kidneys are not functioning properly so you may be advised to limit foods with high potassium and phosphorus. High potassium foods include milk, yogurt, avocados, bananas and many other fruits and vegetables, nuts, seeds and beans. High phosphorus foods include soft drinks, dairy products, nuts, liver and beans.
The above are some general suggestion for people with stage 3 chronic kidney disease. It is not suitable for everyone. Thus, if you want to know your individual dietary plan, you had better send your medical reports to kidneycares@hotmail.com. Our experts will give you a dietary plan according to your ilness conditions.
In addition, diet is not enough to treat kidney disease stage 3. You also need to take medical treatment to protect residual kidney function or even improve kidney function. This can be achieved by Micro-Chinese Medicine Osmotherapy which belongs to Four One Chinese Medicine Treatment in our hospital. Micro-Chinese Medicine Osmotherapy can expand blood vessels, prevent inflammation and coagulation, degrade extracellular matrix, improve blood circulation and provide essential nutrients. All these set a good internal environment for damaged kidneys. After a period of treatment, damaged kidneys can be repaired to some extent and then kidney function will be improved naturally and effectively. Mai Kang Mixture, Medicated Foot Bath and Medicinal Soup in Four One Chinese Medicine Treatment are usually used together with Micro-Chinese Medicine Osmotherapy, forming a systematic therapy for stage 3 chronic kidney disease. It brings new hope for more and more kidney disease patients. Seize the chance now. We are here with you.