Will Persimmon Be Dangerous For Stage 3 Kidney Disease Patients
2015-10-15 02:32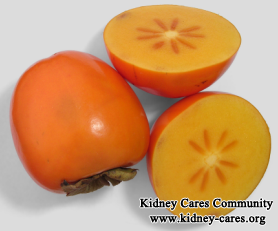 Persimmon are delicious and exotic fruits and it can help increase blood circulation, reduce inflammation, boost immune system and lower cholesterol, etc. Well is persimmon good for stage 3 kidney disease patients?
First, let's see what health benefits persimmon have.
1. Good for diabetes
Diabetes is a leading cause of kidney disease. For people who have diabetes, they can eat persimmon which is known to regulate the level of sugar in blood. Persimmon is a fruit that is good for diabetics.
2. Good for hypertension
Hypertension or high blood pressure is another leading cause of kidney disease. Potassium in persimmon can act as a vasodilator and lower blood pressure, thereby increasing blood flow to various parts of the body. Besides, persimmon also contain various vasodilating organic compounds that further drop blood pressure, making it a very good fruit for heart health. Persimmon is good for kidney disease patients who have high blood pressure.
3. Boost immunity
Persimmon is rich in vitamin C which has been found to be a potent agent that increases immunity and strengthens against cold, flu and infection. This helps reduce the risk of relapse.
Besides, persimmon is also good for blood circulation, metabolic activity and eye health. However, for kidney disease patients, if they have hyperkalemia, they should keep away persimmon because it is rich in potassium. With damaged kidney function, extra persimmon will stay in the body, which causes hyperkalemia easily.
In summary, persimmon has both good and bad effects for stage 3 kidney disease patients. Everything has two sides, and there is no exception with persimmon. If you eat it improperly, it can be dangeorus for your condition. Before eating persimmon, you can consult our online doctor or send us a message to kidneycares@hotmail.com. We are glad to help you.