Can I Eat Beans Since I Have Stage 3 CKD
2015-08-10 03:17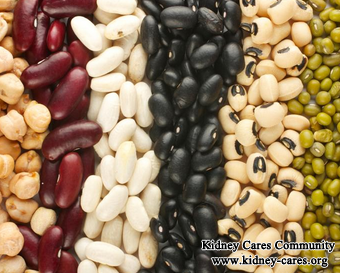 Can I eat beans since I have stage 3 chronic kidney disease (CKD)? This is an email sent by one of kidney disease patients to kidneycares@hotmail.com. As we all know, bean products contain rich protein and vitamins, which are also popular with many people. How about people with stage 3 kidney disease?
Beans help prevent and reverse diabetes, kidney stones and heart disease. Please see the following detailed information:
1. Diabetes
Diabetes is the first leading cause of kidney disease. If you can manage or prevent diabetes, it can reduce your risk of kidney disease. Including about 1 cup or more of beans in your daily diet can decrease your risk of getting diabetes by 38%. If you follow a plant based diet, which includes beans, and exercise daily, you can slash your diabetes drastically or completely.
2. Kidney stones
Kidney stones can be a common complication of kidney disease. If you have had a kidney stone attack, you know how extremely painful it can be. It is usually too much calcium running through your kidneys from milk that can cause calcium stones, or it can be the result of having had too many high-protein, acidic animal foods that can contribute to mineral depletion of the bones to neutralize the acidity. In this condition, these minerals filter through the kidneys and start building up. For many people, they are suggested to go on a low protein diet and use beans for protein instead of animal flesh. For some people, they need to eliminate the dairy products. Thus, they can get calcium from greens, beans, or whole food supplements.
3. Heart disease
Heart disease is a leading cause of death in kidney disease patients. Beans are no-saturated fat, no cholesterol and high fiber nutrition. They can cut risks of myocardial infraction by 38%, heart disease by 22%, reductions in total cholesterol TC and low-density-level-cholesterol LDL-C by 19-24%.
For people with healthy kidneys, beans contribute to overall kidney health. For people with kidney disease, beans provide several nutrients that need to be carefully monitored and modulated. Beans contain phosphorus, potassium, protein and magnesium. Excessive protein can accelerate the loss of kidney tissues, and the potassium, phosphorus and magnesium in beans can put an undue stress on the kidneys for those who have chronic kidney disease. Thus, if you have stage 3 kidney disease, you had better not eat beans.
Our Treatment Effect
High creatinine level is dangerous to a kidney patient
Move the mouse to enlarge the picture
If you also want to reduce your high creatinine level, please look at this patient's report. When he was just hospitalized in our hospital on Dec 11, 2018,
His creatinine:1028umol/L,
urea: 39.7mmol/L
UA : 513umol/L
After a period of our treatment,
his creatinine:331umol/L, urea:16.1mmol/L
UA :325umol/L on Jan 5, 2019.
His condition was getting better and better. You can also get better.
For a CKD patient, you can choose Chinese medicine treatments to control your condition. your creatinine level can be reduced radically, symptoms can be alleviated and more importantly, your renal function will be improved. In this way, you can stay away from end stage kidney disease and avoid dialysis.