How Much Zinc Should I Take with Third Stage Kidney Disease
2015-06-07 03:47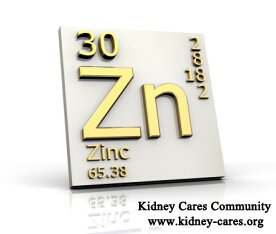 Zinc is an essential trace element and has a number of roles and functions in the human body. With kidney disease, it is likely for you to suffer from zinc deficiency. How much zinc should I take with third stage kidney disease? If you would like to know the answer, go on reading to learn more information.
Symptoms caused by zinc deficiency
-One of its most important roles is in supporting our immune system, which protein us from pathogens, infections and disease. Zinc deficiency can make immune system weak so as to expose you to various diseases.
-Hair loss
-Dry skin
-Loss of appetite
-Unexplained weight loss
-Diarrhea
Space limited, so we do not explain them one by one.
Zinc supplement for people with third stage kidney disease
The optimal range of plasma zinc is 13.8-22.9 umol/L (90-150 ug/dL). If your blood zinc level is lower than this range, it is necessary for you to supplement zinc in case that it cause those symptoms. Generally speaking, zinc deficiency can be prevented by ensuring intake of the recommended amounts of zinc through:
-Obtaining zinc from dietary sources, such as nut and poultry.
-Using zinc supplements if your diet does not provide adequate levels of zinc.
Precaution
If your blood zinc level is above the normal range, it is unnecessary for you to supplement zinc. Too much zinc in the blood can also cause many problems, such as nausea, vomiting, diarrhea, etc. It can also reduce the absorption of copper so as to worsen your anemia.
How much zinc should I take with third stage kidney disease? It depends on your medical condition. If you would like to get an accurate answer, you should send your medical test report to kidneycares@hotmail.com. After analyzing it, our doctors will contact you.
Our Treatment Effect
High creatinine level is dangerous to a kidney patient
Move the mouse to enlarge the picture
If you also want to reduce your high creatinine level, please look at this patient's report. When he was just hospitalized in our hospital on Dec 11, 2018,
His creatinine:1028umol/L,
urea: 39.7mmol/L
UA : 513umol/L
After a period of our treatment,
his creatinine:331umol/L, urea:16.1mmol/L
UA :325umol/L on Jan 5, 2019.
His condition was getting better and better. You can also get better.
For a CKD patient, you can choose Chinese medicine treatments to control your condition. your creatinine level can be reduced radically, symptoms can be alleviated and more importantly, your renal function will be improved. In this way, you can stay away from end stage kidney disease and avoid dialysis.