Should You Reduce Fluid Intake with Stage 3 Kidney Disease
2015-06-01 08:33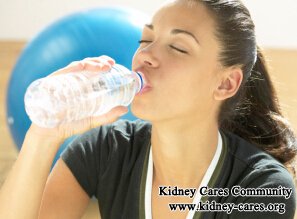 As we all know, one of the important kidney function is to filter waste products and excess fluid from the blood. Stage 3 kidney disease means your kidneys are damaged moderately. Should you reduce fluid intake with stage 3 kidney disease? If you have the similar doubt, go on reading to learn more information.
Though your kidney function has declined, it does not mean you should reduce fluid intake. If your urine output is still normal (about 800-2000 mL per day), there is no need to reduce fluid intake. But if you have severe edema or reduced urine output, fluid intake should be reduced, in some cases, you have to avoid fluid intake. Because too much fluid intake can worsen edema and it can also increase your blood volume so as to raise your blood pressure. Besides, it can put extra stress on your kidneys to speed up kidney failure. All in all, you should drink fluid according to your medical condition. Too much and too less are both bad for your body.
Besides fluid restriction, there are some other restrictions on diet. For example, you should limit the intake of protein, which helps reduce proteinuria and decrease the workload of kidneys. You should also restrict the intake of sodium, which helps control edema as well.
Should you reduce fluid intake with stage 3 kidney disease? It depends on your medical condition. Apart from diet, you should pay attention to medical treatment. With proper treatment, it is possible for you to reverse the disease and lead a normal life. In Traditional Chinese Medicine, there are many therapies to help you repair the damaged kidneys and improve kidney function. If you would like to get a comprehensive treatment plan for stage 3 kidney disease, please leave a message below or send emails to kidneycares@hotmail.com. After analyzing your case, we will contact you later.