Can I Eat Honey If I Have Stage 3 Kidney Disease
2015-05-02 02:08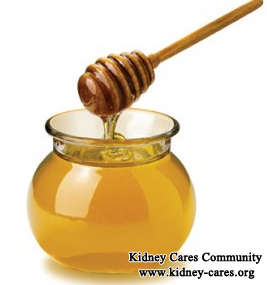 Stage 3 chronic kidney disease (CKD) patients are concerned much about their diet and they often ask us which food they can eat and which food they cannot. Well, can a person with stage 3 kidney disease eat honey?
Generally speaking, kidney disease patients can eat honey. This is because after money is metabolized, it will produce fluid and carbon dioxide, which will not increase kidney burden. The following are specific health benefits of honey to kidney disease patients:
1. Boost immune system
Raw and organic honey is loaded with vitamins, minerals and enzymes which protect the body from bacteria and boost the immune system. To improve your immune system, add 1-2 tablespoons of honey to warm water daily.
2. Protect heart and blood vessels
Heart disease is the most common death of kidney disease patients. Flavonoids and antioxidants in honey can help reduce the risk of heart disease which can save more people's life.
3. Provide energy for kidney disease patients
The natural sugar in honey provides a healthy source of calories and energy for the body. Kidney disease patients are easy to get tired and have no energy to do anything. Proper intake of honey can provide energy for kidney disease patients and help alleviate fatigue.
4. Support blood formation
Honey has the function of cleansing blood and improve blood circulation, which will supply nutrients and oxygen to kidneys. And the improved blood circulation will help recover kidney function.
Although honey has so many health benefits for kidney disease patients, not all patients are allowed to eat it. If you are a diabetic nephropathy patient, you should limit honey intake. Because if you eat honey for a long time and too much, your blood sugar must be fluctuated in a day. Unstable blood sugar level is not helpful for controlling your medical condition. Thus, you had better consult your doctor or our online doctor directly before eating honey.