Is It OK to Use Moringa Oleifera Leaves in CKD Stage 3
2015-04-18 08:58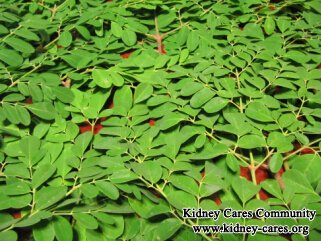 As long as your CKD develops to stage 3, you should pay attention to what you eat, because improper diet can speed up kidney failure. Moringa oleifera leaves are packed with rich nutritional properties. Is it OK to use moringa oleifera leaves in CKD stage 3?
The leaves of moringa oleifera are the best part of the the plant, because they contain high levels of vitamins, like C, A and B and trace elements, such as potassium magnesium, iron and calcium. Now let's see some of their health benefits.
Lower blood pressure and cholesterol
Not a few CKD patients have high blood pressure and high cholesterol level. Without good control, it increases your risk of heart disease. Some substances in moringa oleifera leaves such as thiocarbamate glycosides and nitrile can help you lower blood pressure and cholesterol level.
Strengthen immune system
It is likely for CKD stage 3 patients to suffer from infections and some other aliments. Rich vitamins in moringa leaves can help you neutralize the free radicals in the blood and strengthen the function of white blood cells so as to strengthen your immune system.
Improve anemia
Anemia is a common complication of CKD, which usually results from erythropoietin and iron deficiency. Moringa leaves contain three times more iron than spinach, which can help you improve anemia to certain extent.
Other health benefits of moringa oleifera leaves
-Promote the normal functioning of the liver and the kidney
-Balance the sugar levels
-Guard you from osteoporosis and other bone conditions
-Help in weight loss
-Detoxify the blood
Is it OK to use moringa oleifera leaves in CKD stage 3? It seems that moringa oleifera leaves is very good for you, but it does not mean you can eat it. For example, moringa leaves contains all the essential amino acids need by the body, but too much intake can put extra stress on the kidneys. Therefore, you had better talk with your doctor if you want to use it for treatment.
Our Treatment Effect
High creatinine level is dangerous to a kidney patient
Move the mouse to enlarge the picture
If you also want to reduce your high creatinine level, please look at this patient's report. When he was just hospitalized in our hospital on Dec 11, 2018,
His creatinine:1028umol/L,
urea: 39.7mmol/L
UA : 513umol/L
After a period of our treatment,
his creatinine:331umol/L, urea:16.1mmol/L
UA :325umol/L on Jan 5, 2019.
His condition was getting better and better. You can also get better.
For a CKD patient, you can choose Chinese medicine treatments to control your condition. your creatinine level can be reduced radically, symptoms can be alleviated and more importantly, your renal function will be improved. In this way, you can stay away from end stage kidney disease and avoid dialysis.