Is Corn OK To Eat For Stage 3 Kidney Disease Patients
2015-04-17 07:05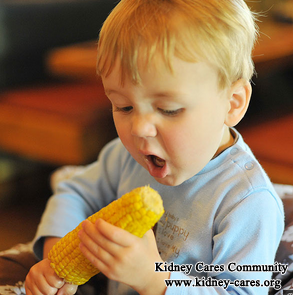 Can stage 3 chronic kidney disease (CKD) patients eat corn? Many people would like to eat corn. However, kidney disease patients may ask whether corn is ok to eat. In regard to this question, please see the following introduction.
Can kidney disease patients eat corn?
Diuretic properties of corn
Kidney disease experts point out that corn is a coarse grain. Its nutrients are abundant and corn has diuretic property, which is helpful for kidney disease patients. It is even helpful for discharging toxins in uremia patients.
Besides, corn has been shown to possess some antidiabetic properties that may prove helpful in Type 2 Diabetes and associated kidney complications. The anthocyanins found in corn have an ability to affect the development of diabetic nephropathy, a serious complication of diabetes that can lead to end stage renal disease. Anthoocyanins have both antioxidant and anti-inflammatory properties and increasingly are proven for their effect on various health challenges ranging from cancer to aging, heart disease and diabetes.
Lower blood pressure
For stage 3 kidney disease patients, high blood pressure is a common symptom. Also hypertension can cause further kidney damage, so kidney disease patients need to have effective treatment to control blood pressure. The high calcium in corn can help lower high blood pressure.
Corn is a purine food. The metabolic product of purine is uric acid. Uric metabolic disorder or decreased excretion of uric acid by kidneys both can lead to hyperuricemia. If you overeat corn, uric acid will deposit in kidneys and cause damages on renal parenchyma, namely uric acid nephropathy. Thus, whether kidney disease patients can eat corn depends on their own medical condition. If they want to eat corn, they need to get the permission of their doctor.
Our Treatment Effect
High creatinine level is dangerous to a kidney patient
Move the mouse to enlarge the picture
If you also want to reduce your high creatinine level, please look at this patient's report. When he was just hospitalized in our hospital on Dec 11, 2018,
His creatinine:1028umol/L,
urea: 39.7mmol/L
UA : 513umol/L
After a period of our treatment,
his creatinine:331umol/L, urea:16.1mmol/L
UA :325umol/L on Jan 5, 2019.
His condition was getting better and better. You can also get better.
For a CKD patient, you can choose Chinese medicine treatments to control your condition. your creatinine level can be reduced radically, symptoms can be alleviated and more importantly, your renal function will be improved. In this way, you can stay away from end stage kidney disease and avoid dialysis.