Can Kidney Function 40% be Improved With Diet
2015-02-06 01:31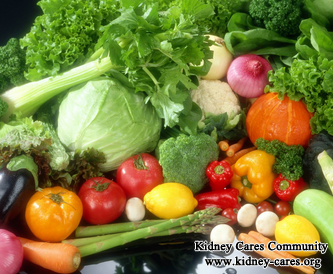 Kidney function 40% means more than a half of kidney function has been damaged. For patients with 40% kidney function, if they can follow a proper diet, their kidney function can still be improved. You may be asking the question, "are there kidney foods that can improve kidney function." I guarantee, if you continue reading, you will find the answer to your question.
Kidney friendly foods are antioxidant rich foods that can benefit not only those who suffer from kidney disease but also individuals who want to maintain healthy kidneys. Below is a list of five kidney friendly foods that you can incorporate into your diet today.
1. fluids
Staying hydrated is necessary for prevention and treatment. And the kidneys definitely need water for support. In fact, water is the most important thing to maintaining the kidneys. Drinking 6-10 cups of filtered water a day can help your kidneys function in an optimal state. However, if you have edema, you should limit the fluid intake so as not to put a burden on kidneys. How much you can eat depends on your medical conditions. For this, you can consult your doctor or our online doctor directly.
2. apples
Apples are filled with nutrient goodness, high in fiber and compounds that prevent inflammation. Eating apples and drinking freshly juiced apples can help prevent kidney stones.
3. Beans
Any dark-colored bean can be a beneficial kidney food. Beans are high in fiber and very cleansing to the body. Black beans help to prevent kidney stone formation.
4. whole grains
Whole grains are another fibrous food that can help cleanse the kidney. Whole grains include whole wheat, oats, whole grain corn and brown rice and you should incorporate into your diet.
5. garlic
Garlic can be used a medical herb which has anti-inflammatory properties that benefit the kidney. Garlic is beneficial if you are suffering from a kidney infection due to its natural antibiotic properties.
6. vegetables
Protein metabolism will produce the waste product urea. The kidneys remove the urea from the body. Protein is necessary part of your diet, but too much protein can workload your kidneys. To increase kidney health, you need to cut back on protein. You can replace large amounts of proteins in your diet with vegetables.
When kidney function is affected by injuries, infections or kidney diseases, your body becomes unable to filter waste and blood products properly. Adjusting your daily diet to include more kidney good foods is important to boost kidney function. If you have any question, please feel free to consult our online doctor or leave a message to kidneycares@hotmail.com.
Our Treatment Effect
High creatinine level is dangerous to a kidney patient
Move the mouse to enlarge the picture
If you also want to reduce your high creatinine level, please look at this patient's report. When he was just hospitalized in our hospital on Dec 11, 2018,
His creatinine:1028umol/L,
urea: 39.7mmol/L
UA : 513umol/L
After a period of our treatment,
his creatinine:331umol/L, urea:16.1mmol/L
UA :325umol/L on Jan 5, 2019.
His condition was getting better and better. You can also get better.
For a CKD patient, you can choose Chinese medicine treatments to control your condition. your creatinine level can be reduced radically, symptoms can be alleviated and more importantly, your renal function will be improved. In this way, you can stay away from end stage kidney disease and avoid dialysis.