Is Carrot Good For Kidney Patients
2015-01-25 10:12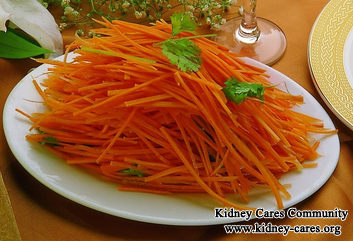 As we all know, diet plays an important role in the treatment of kidney disease. Crrots are known as the vegetable that is easy to grow, tasty and high nutrition. But are carrots good for kidney patients?
Carrots can be added to kidney diet. Carrots are rich in vitamins, antioxidants, dietary fiber and minerals so kidney patients can get health benefits from carrots:
1. prevent heart disease
Heart disease is a serious complication of kidney disease. Many people die from more heart problems than the kidney disease itself. Regular consumption of carrots or carrot juice reduces the risk of heart disease by 60%. The anti-oxidants present in carrots helps in preventing cardiovascular diseases.
2. blood pressure control
High blood pressure is often to be seen in kidney disease patients. If left untreated, it will cause further kidney damage. Carrots have potassium in it which helps to balance the high levels of sodium associated with hypertension and keeps blood pressure under control.
3. anti-diabetes
Diabetes is a leading factor of kidney disease. Carrots are high in carotenoids which are beneficial in regulating blood sugars. It also decreases insulin resistance.
4. boost immune system
With low immunity, patients are easy to get infected. Lignin present in carrots helps in boosting the immune system and prevents cancer. It helps in preventing infections.
5. digestive problems
Digestive problem is a common sign of kidney disease. Carrot has a medical value to prevent many digestive disorders. Regular consumption of carrots helps prevent gastric ulcers and digestive disorders. Constipation problem can be alleviated by carrot juice.
In addition, carrots also help anemia, improve vision, reduce cholesterol levels and prevent cancer. Generally speaking, carrot is a good food for kidney disease patients.