Is Green Tea Good For CKD Stage 3
2014-12-27 08:41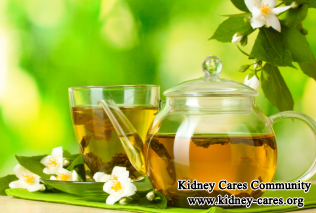 Is green tea good for chronic kidney disease (CKD) stage 3? Green tea is healthy and prevents kidney damage when you drink it in moderation. Therefore, CKD stage 3 patients can drink green tea in moderation. What health benefits can CKD Stage 3 patients get from green tea.

Green tea protects your kidneys from drug-induced toxins.
High blood pressure is a common complication of stage 3 CKD. Reserpine is often prescribed to treat blood pressure. Reserpine can cause kidney damage. Besides, green tea elevates the body's antioxidant defense system, cleans up free radicals, lessens oxidative damage and protects the kidneys against reserpine-induced toxicity.
Green tea is beneficial for kidney damage from ischemia.
Your kidneys become injured and inflamed when the blood supply returns to the tissues in the organ after an ischemia. Scientists found that green tea reduces kidney injury from ischemia.
Green tea improves kidney function in people with diabetes.
Kidney disease is a common complication among diabetics. If left untreated, impaired renal function can progress to kidney failure, which requires hemodialysis or a kidney transplant. According to research, the consumption of green tea prevents the accumulation of glycogen in the kidneys and improves kidney function. The scientists conclude that green tea can be a beneficial treatment for diabetic nephropathy.
Green tea prevents kidney stone.
Kidney stone is painful and often recurring condition. Calcium oxalate in food can produce kidney stone. Drinking green tea can help you prevent the development of kidney stones made from calcium oxalate crystals.
CKD stage 3 patients can drink green tea. But the premise is moderate consumption of green tea. If you do not know how much you can drink, you can consult our online doctor or leave us a message to kidneycares@hotmail.com. We will give you advice according to your own medical condition.