Are Blueberries Good For Kidneys In CKD Stage 3
2014-11-24 06:39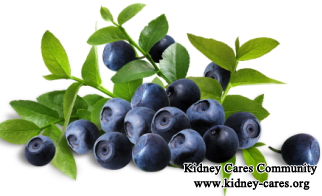 Chronic Kidney disease (CKD) stage 3 patients should choose a kind of fruit which is good for their kidneys. Blueberries contain numerous nutrients and vitamins that are beneficial to our health. Are blueberries good for kidneys? Follow us to find the detailed information.
1. Here is a list of some of the health benefits of eating blueberries:
Reverse memory loss
Reduce cholesterol levels
Reduce the risk of developing type 2 diabetes
Prevent urinary tract infections
Build strong bones
Low in calories, high in fiber, vitamin C and antioxidant
2. The list makes you want to eat more blueberries, doesn't it? Read on for more details on how blueberries can improve your health.
Prevent type 2 diabetes
As we all know, diabetes is one of the leading causes of kidney disease, so it is important to treat diabetes timely. The study has shown that people who eat the most blueberries had a 23 percent lower risk of developing type 2 diabetes than the individuals who eat the fewest blueberries. Diabetes prevention is able to lower the risk of kidney disease.
Lower cholesterol
Researchers found that LDL or bad cholesterol with about 2 cups of day dropped 20 percent. A low LDL cholesterol level is considered good for your heart health.
Prevent urinary tract infection
In general, urinary tract infection is harmless, easily treatable conditions. However, untreated urinary tract infection can turn into pyelonephritis, an inflammation of the kidney. Kidney infections irritate and ultimately weaken the kidneys. As delicate vital organs, kidney damage is irreversible. Blueberries are helpful in preventing urinary tract infections. Therefore, kidney disease people can eat blueberries.
Generally speaking, blueberries are good for kidneys. Besides, they are also beneficial for other body organs including skin, bone and heart. If you have any question, feel free to consult our online doctor directly.