What Vegetables Can Be Eaten With Stage Three Kidney Disease
2014-11-19 02:00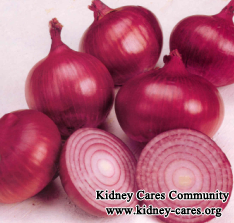 Most of us know that eating a balanced diet is important for good health. If you have chronic kidney disease (CKD), you will be glad to know that there are lots of super foods, containing antioxidants and other health-supporting properties, included in the kidney diet. As for stage three kidney disease patients, it is important that you consult a renal dietitian and follow a kidney diet. Here we will introduce you a diet eating plan which can help you increase your intake of nutrients and antioxidants.
Here is a list of some kidney-friendly foods. These foods are good for everyone, not just people with kidney disease.
1. Red bell peppers
red bell peppers are a good choice for those concerned about kidney health, because they are low in potassium. In addition, they also contain the antioxidant lycopene, which protects against certain types of cancers. If you are on a kidney diet, you can add red bell peppers to your food plan.
2. Cabbage
Cabbage is a good choice to your eating plan, because it is high in vitamin K and C, high in fiber and a good source of vitamin B6 and folic acid, but it is low in potassium, so it is a kidney-friendly vegetable.
3. Garlic
People with kidney disease experience more inflammation than those without kidney problems. Garlic is good for reducing inflammation and lowering cholesterol. It also has antioxidant and anti-clotting properties. If you are following the dialysis diet, use garlic powder instead of garlic salt to add extra flavor to your meals without adding extra sodium.
4. Onion
Onion is full of flavonoids, particularly quercetin. Flavonoids are natural chemicals which help prevent the deposit of fatty material in blood vessels. Quercetin is a powerful antioxidant that is believed to help reduce heart disease and protect against many forms of cancer. Onions are not only kidney-friendly due to low in potassium of onion.
If you are concerned about the health of your own kidneys-or somebody else's-these vegetables for kidney health should be on your grocery-shopping list. Ask our online doctor for a renal dietitian in your kidney-friendly meal plan if you have chronic kidney disease.