Can I Use Flaxseed Oil with CKD Stage 3
2014-11-14 08:55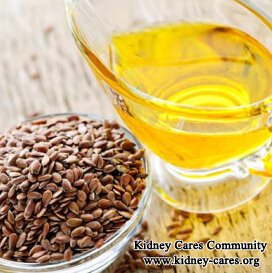 Every day we have to eat moderate fat to maintain the normal function of body. But as CKD patients, we are often required to limit the intake of fat, because excessive ingestion of fat and energy results in a host of health conditions such as obesity, CHD and high blood pressure. Can I use flaxseed oil with CKD stage 3?
Because of its various health benefits, flaxseed oil can be added into your diet.
-Control blood pressure and lower cholesterol level.
High blood pressure and high cholesterol level often occur among kidney patients. They increase your risk of heart disease and cause further damage to the kidneys. Flaxseed oil is packed with rich omega 3 fatty acids, which can inhibit inflammatory reactions that cause artery hardening plaque and poor circulation. It can also remove the bad cholesterol from the blood and increase good cholesterol in the blood.
-Inhibit kidney inflammation
When you have kidney disease, a lot of immune complexes and inflammatory factors will be produced. With blood circulation, they come to kidneys and deposit, leading to kidney inflammation and kidney function impairment. Omega 3 fatty acids in flaxseed oil help you relieve this condition so as to protect your kidneys from being damaged.
-Other health benefits
Flaxseed oil helps you reduce the risk of cancer, lower blood sugar level, decrease liver disease, promote healthy hair and nails, control numbness and tingling, etc.
Precautions
Though flaxseed oil has so many health benefits, it does not mean you can eat a lot in the daily. High does of flaxseed when not taken with enough water may cause constipation. And it may also interact with drugs you take. Therefore, you had better consult your doctor before you add it into the diet.
CKD patients should pay attention to their diet, because diet plays an important role in slowing down the progression to kidney failure. If you would like to acquire a personalized diet plan or treatment, please send your medical test report to kidneycares@hotmail.com. Our doctors will contact you later after analyzing your case.