Can I Drink Dandelion and Chamomile Herb Tea with Stage 3B CKD
2014-11-07 08:13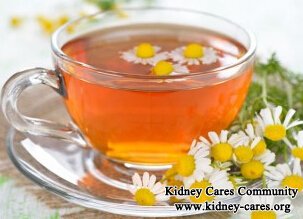 Having had enough side effects of western medicine, some patients would like to seek some herb tea to control their disease. Dandelion tea and chamomile tea are both packed with various health benefits. "I have Stage 3B CKD. Can I drink dandelion and chamomile herb tea?" In the following, you will find the answer.
Health benefits of dandelion tea
Because of kidney disease, waste and excess water build up in the blood. Dandelion tea is a diuretic, which helps the kidneys cleanse waste and excess water so as to protect kidneys. It can also boost immune system so as to protect you from various diseases, such as cold and infection. These aliments can add insult to injury. Besides, it can lower cholesterol level and regulate blood pressure to reduce the risk of heart disease. It also promotes digestion and stimulates appetite.
Health benefits of chamomile tea
Chamomile is also a great herb used for thousands of years. With kidney disease, you may have restless leg syndrome, muscle cramp and some other symptoms, which affects your sleeping quality. Drinking chamomile tea helps to sleep better. Diabetes is a common cause of kidney disease. Drinking chamomile tea can manage diabetes and lower blood sugar level. Moreover, it helps build strong immune system and help you resist diseases.
Can you drink dandelion and chamomile tea with stage 3B CKD
Generally speaking, you can drink dandelion tea and chamomile tea. But if you have severe edema, you had better limit the intake of herb tea. Besides, they may interact the medicine you take. Therefore, you had better consult your doctor before you add it into the diet.
Though herb tea helps you to control CKD stage 3B to certain extent, it can only act as an adjunctive treatment. You should seek comprehensive treatment to repair the damaged kidneys and improve kidney function. If you would like to know some information about comprehensive treatment for stage 3B CKD, please contact online doctor or leave a message below.