Does Eating Asparagus Help Kidney Disease Stage 3
2014-11-04 03:48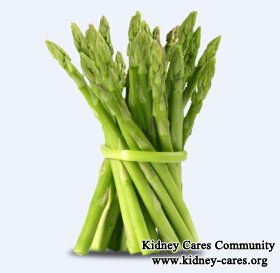 Asparagus is a kind of delicious vegetable packed with vitamins, dietary fiber and minerals. Does eating asparagus help kidney disease stage 3? Generally speaking, kidney patients can eat asparagus. And you can achieve the following health benefits.
Diuretics
When your kidney disease develops to stage 3, your damaged kidneys weaken their ability to filter excess water and waste from the blood. Asparagus is a natural diuretic, which helps flush out toxins and water. It can also prevent kidney stone.
Regulate blood sugar
Diabetes is a common cause of chronic kidney disease. If you have diabetes, asparagus may be a good choice for you. The rich source of B vitamins and fibers, which helps regulate blood sugar levels.
Reduce the risk of heart disease
Heart disease is a common complication of kidney disease, which is life-threatening. Drinking asparagus juice with raw honey frequently helps strengthen a weak heart.
Inhibit inflammation
Wastes such as uric acids building up in the blood may deposit in the joints, leading to arthritis. Asparagus contains many anti-inflammatory nutrients, such as asparagus saponins and the flavonoids quercetin, which help to combat arthritis and autoimmune diseases.
Prevent bone disease
Damaged kidneys can not activate vitamin D to help body absorb calcium. Besides, high phosphorus level in the blood also causes the loss of calcium from the blood. Asparagus is packed with rich vitamin K, which strengthens the composition of bones so as to prevent bone disease.
Asparagus also has other health benefits, such as lower blood pressure, strengthen immune system, alleviate constipation, help digestion and prevent cancer. However, if you are allergic to asparagus, you should not eat it. With the help of online doctor, you can acquire a personalized diet plan or treatment plan. All our online service is free of charge.