Is Orange Juice OK To Drink With Stage 3 CKD
2014-09-21 07:03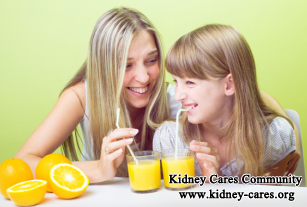 Oranges are one of the most delicious fruits that are equally popular in elder people, adults and children as well. Besides, orange juice provide you a wonderful taste but also upsurges the resistance power. Now that orange juice has so many health benefits, is it ok for stage 3 chronic kidney disease (CKD) patients to drink?
Since medical conditions vary from person to person, there is no exact food or fruit which is suitable for every CKD Stage 3 patient. Whether a person can drink orange juice depends on his or her medical condition.
Here you can know when you can drink orange juice and when you cannot drink it.
Health benefits of orange juice
1. Provide vitamin C
A high percentage of vitamin C in orange is helpful in boosting the immune system. Thus, you will be less likely to catch various diseases, such as cold or flu.
2. Inflammatory properties
It is researched that orange juice has anti-inflammatory properties. The antioxidants in orange juice help prevent inflammation that can be caused by the action of free radicals. This fruit juice is also beneficial for those inflammatory conditions like arthritis and asthma.
3. Lower high blood pressure
If a CKD patient has high blood pressure, it is important to lower it. The potassium content in orange juice is helpful in maintaining normal blood pressure. A particular flavonone in oranges is helpful in lowering high blood pressure.
The above are benefits of orange juice. From this aspect, it is ok for CKD stage 3 patients to drink orange juice. However, orange is high in potassium, so patients with high potassium level in blood should limit or avoid drinking orange juice. When kidneys fail they can no longer remove excess potassium, so the level builds up in the body. Because of this, high potassium foods must be limited.
If you have any question, you can leave us a message to kidneycares@hotmail.com or consult our online doctor directly. Our expert will provide you a specific diet plan according to your own medical conditions.