Is Carrot Or Carrot Juice Good For CKD Stage 3 Patients
2014-09-19 01:49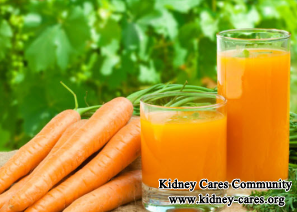 Carrots are the world's healthiest foods. Carrot not only tastes good, it has so many health benefits and is highly cleansing. As for a chronic kidney disease (CKD) stage 3 patient, he or she can eat carrot or drink carrot juice according to own medical conditions. Why do CKD stage 3 patients can eat carrot or drink carrot juice?
CKD Stage 3 patients can get the following health benefits from carrot or carrot juice:
1. Heart health
Heart disease is a major complication of kidney disease and many people die from this disease. Regular consumption of carrots or carrot juice reduces the risk of heart diseases by 60%. The carrot contains anti-oxidants which help in preventing cardiovascular diseases.
2. Blood pressure control
Potassium in carrots can help balance the high sodium level associated with hypertension and keep blood pressure under control.
3. Diabetes prevention
Diabetes will also cause damages on kidneys and do further damages on kidney, so diabetes prevention is also important for CKD Stage 3 patients. Carrots are rich in carotenoids which are beneficial in regulating blood sugars. It also decreases insulin resistance.
4. Boost immunity
Once you are diagnosed with kidney disease, your immunity will become weak and cannot fight against bacteria. In this condition, further kidney damage may occur. Carrots contain a number of antiseptic and antibacterial ability that helps boost the immune system.
5. Digestive health
Carrots have rich dietary fiber and fiber is one of the most important elements in maintaining good digestive health. Carrots reduce the severity of condition like constipation.
The above are common health benefits of carrots. They also have many other healthy benefits like anemia, stroke, skin health, eyesight, dental problems, reducing water retention and balancing acidosis, etc. However, moderation is always necessary. If you do not know how much you can eat or drink carrot, you can consult our online doctor or leave us a message to kidneycares@hotmail.com. Then you will know how much is suitable for you.