Safe Diet for Patients with Kidney Disease Stage 3A
2014-08-03 03:38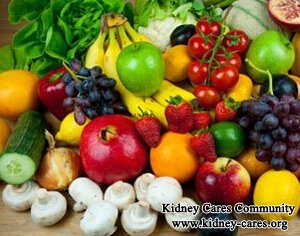 According to glomerular filtration rate, chronic kidney disease is classified into five stages. And stage 3 CKD is further classified into stage 3A (45-59) and stage 3B (30-44). In different stages of CKD, there are different diet requirements. What is the safe diet for patients with kidney disease stage 3A?
High quality protein
Protein plays an important role in maintaining the health of body, so we have to consume some protein to satisfy the need of body. Protein metabolism does not only provide the nutrients, but also produces a lot of waste, such as creatinine and urea. Relative speaking, high quality protein is more healthy for kidney patients, because it can reduce the production of waste so as to decrease the workload of kidneys and protect your kidney function. For CKD stage 3A patients, 0.8 g/kg protein is recommended per day. Egg white, lean meat and fish are all high quality protein.
Rich vitamins
Kidney patients often lack vitamins. Vitamins are good for body. One important function is to boost immune system and help you fight against infection, cold, kidney disease, etc. Fresh vegetables and fruits such as cranberries, kiwi fruits, guava and gooseberries are good source of vitamins.
High calory intake
Getting enough carbohydrate can supplement calory for the body, while reducing the metabolism of protein as well as improving azotemia. Besides, it can make your body take full advantage of the amino acid of low protein diet. The acceptable daily intake of calory is about 125.6 J/Kg. Rice, wheat, corn, sweet potato and apple are packed with carbohydrate.
Other diet requirements
There are also other diet requirement which should should be made according to your state of illness. For example,
-If you have edema and high blood pressure, you should limit the intake of sodium.
-If your potassium level is high, you should restrict the intake of potassium.
The above information is very general. If you would like a personalized diet plan, you can contact online doctor. Besides diet, you should seek treatment as early as possible, because it is possible for you to reverse the disease and live a better life.