Are Salad Good To Eat With Stage 3 CKD
2014-05-07 02:24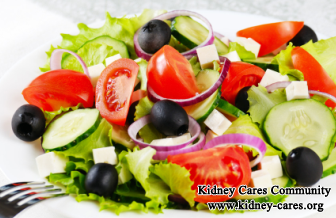 Eating salad is a super-convenient way to be in a couple of serving of vegetables or fruits. Experts have said that eating salad almost every day may be one of the most healthy eating habits you can adopt. Well, are salad good eat with stage 3 chronic kidney disease (CKD)?
Eating salad is for the health benefits of fruits and vegetables. And we here introduce some healthy benefits of salad for CKD patients.
1. High fiber in salad
Kidney disease patients are more likely to have high cholesterol level and complain the bothersome constipation. Salad is a high fiber diet which can help lower cholesterol level and prevent constipation.
2. Antioxidants
If your salad includes some raw vegetables, you will likely have higher blood levels of a host of powerful antioxidants like Vitamin C and E, folic acid, and alpha-and beta-carotene. Antioxidants can help protect the body from being damaged caused by harmful molecules called free radicals.
Almost salad has the above two functions and stage 3 chronic kidney disease patients can eat salad due to the above benefits of salad. Besides, here we will provide some specific foods made in salad. And it is beneficial for patients with kidney disease.
Garlic salad
Garlic helps manage blood pressure and cholesterol levels, and also has been shown to be a strong antibiotic. These functions are all good for those who are with high blood pressure, cholesterol levels.
Parsley salad
Parsley is high in vitamin A and can reduce the risk of diabetes and atherosclerosis. If you eat raw parsley, it can cleanse the blood and can help remove kidney stones.
Cucumber salad
Cucumber is able to reduce the risk of diabetes and cholesterol. Also they can control blood pressure. Diabetes and high blood pressure are two major factors of kidney disease, so cucumber salad can be eaten by CKD stage 3 patients.
All vegetables or fruits can be a component of salad. If you are a kidney disease patient, you should pay attention to foods with high potassium, phosphorus level. Because these foods would worsen your conditions like irregular heartbeat, heart attack and stroke, and so on. You can also consult our online doctor who will give you a proper diet plan according to your medical conditions.