Can I With Stage 3 CKD Drink Alcohol
2014-03-11 10:12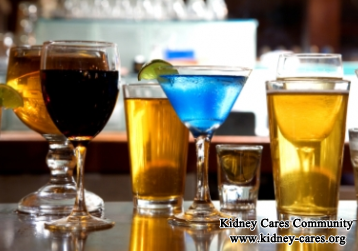 As a part of our lives, people love to drink alcohol for many reasons, to relax, to get high, to have fun and sometimes all three. However, in order to decide whether it is OK to drink alcohol if you have stage 3 chronic kidney disease(CKD), it is important to understand what adverse impact it would have on your treatment plan. Actually it is not ok for stage 3 CKD patients to drink alcohol. And the following will introduce the adverse impact of alcohol to your health.
1. Alcohol is able to disturb nitrogen balance in the body, increase protein metabolism, make blood urea nitrogen level elevated and put a strain on the kidneys.
2. Long-term drinking alcohol will lead to liver fibrosis and also cause some symptoms of liver fibrosis such as edema and pale eyes. All the symptoms can aggravate the chronic kidney disease.
3. Kidney disease is often silent in its early stages, which means you may not see or feel any symptoms. For many people, kidney disease is often treated when detected early. People who have the risk for developing kidney disease should take blood and urine test to check their level of kidney function. Drinking alcohol is more likely to hurt your kidneys in many ways and will increase the frequency of dialysis. It may damage kidney cells. Alcohol also causes high blood pressure which is a leading cause of kidney disease. Besides, drinking alcohol can interfere with your medicines and make it harder to control your blood pressure.
4. Drinking alcohol will make kidneys increase the urine volume, which can lead to dehydration. The carbohydrate load from drinking can lead to obesity which is a risk for diabetes and diabetic nephropathy. Moreover, many people who love drinking are more likely to smoke. Smoking is also a factor of causing kidney disease.
Besides, drinking alcohol also harms your sleep quality and lowers your body's immune system, which makes it easier for you to get inflammation and get sick. In a word, stage 3 chronic kidney disease patients had better not drink alcohol. Alcohol can be dangerous for your kidneys. If you want to drink alcohol, check with your doctor or our online doctor. And remember that moderation is always important.