Protein for People with Stage 3 Kidney Disease And Diabetes
2013-10-03 10:58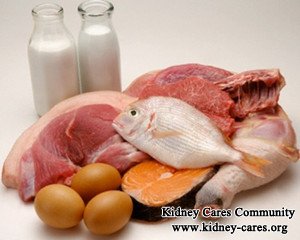 Protein is an important source of nutrient in body.However,the patients with chronic kidney disease (CKD) and diabetes have to limit protein intake.What is the recommended protein intake for people with stage 3 kidney disease and diabetes?
Importances of protein in body
Amino acids are often called the building blocks of life and they are abundant in protein-based foods.The body's cells use these amino acids to manufacture new proteins.The new proteins can be used to make hormones,provide energy that body needs, repair body tissues etc.However,protein intake should be limited in people with stage 3 kidney disease and Diabetes.
Why to limit protein intake in stage 3 kidney disease and Diabetes?
When protein is ingested in body,waste products will be made. Healthy kidneys can remove waste products from body in the urine.
However,when kidneys are impaired,they will lose the ability to remove protein waste.Protein waste starts to accumulate in the blood.High building of of waste product of protein in body can raise the level of BUN in blood.
How much protein to consume in stage 3 kidney disease and diabetes?
In stage 3 CKD,there is a moderate decrease in GFR to 30~59. If you are in stages 1,2 or 3 of CKD,your protein intake may be limited to 12~15% of the calorie intake each day.The recommended protein intake is 0.6~0.75g/kg body weight. However,as the patient's illness condition varies from individual to individual,the protein intake should also be different.
You can chat with our online doctor to get the recommended protein intake in your case.
Animal based protein foods are preferred option for people with stage 3 kidney disease and diabetes. This is because animal based protein foods such as eggs, meat, fish, poultry, cheese and milk have high biological value and also produce less wastes in body. Therefore, animal proteins are suggested proteins for renal patients.