Diet Tea Benefits for CKD Stage 3 Patients
2013-06-14 15:00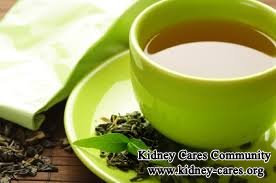 Drinking diet tea has a lot of health benefits to patients of CKD (chronic kidney disease), hypertension, diabetes, heart problems and it is a good natural drink for smokers and drinkers.
For CKD stage 3 patients, they will already have developed a series of kidney problems with about half of their kidney functions are affected. They can have blood pressure problems, blood cholesterol problems, anemia as well as other health issues. Drinking diet teas can help cope with these health problems.
Drinking tea can help control high blood pressure and it is a natural home remedy. Well control of high blood pressure can help slow down illness progression of kidney disease and reduce damages to the kidneys.
For those that have stage 3 CKD caused by diabetes, drinking tea is especially good. A study has found that drinking green tea can help reduce cell and tissue damages because the anti-oxidants in the teas can help reduce the cellular wastes produced by the free radical damages.
For kidney transplant patients, drinking diet tea can help protect kidney functions and prevent renal dysfunction and help reduce the side effects of anti-rejection drugs. Drinking tea can also be very beneficial at reducing the risk of developing kidney cancer.
There are a variety of diet tea and some are certainly good for the patients while some should be avoided by CKD patients. For example, stage 3 CKD patients should limit the intake of caffeine because their kidneys have been impaired. High-caffeine teas such as black tea should be avoided. While white tea and green tea are much better because they contain less caffeine. CKD stage 3 patients should avoid strong tea and avoid drinking too much tea.
Even though diet teas have many health benefits to CKD patients, sometimes we can eat too much of a good thing, therefore the proper amount is very important. Stong tea or too much tea intake can cause elevated blood pressure or heart failure. Some other side effects of too much consumption of teas include constipation, iron-deficiency anemia, etc.
Get free online analysis for your illness condition here. Choose any of the following tools to start instant communication with our experts.
Leave Message
Leave your problem to us, we are here to help you with free charge!