How To Protect Kidneys From HSP
2018-12-09 06:27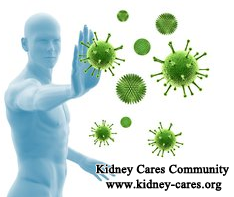 HSP (Henoch-Schonlein Purpura) is a disease that causes small blood vessels in the body to become inflamed and leak. HSP can also affect the kidneys, digestive tract and joints. When kidneys are affected, renal function will decline. Then a series of symptoms will occur. Well then, how to protect kidneys from HSP?
1. How does HSP occur?
Henoch-Schonlein Purpura is caused by an abnormal immune system response in which the body's immune system attacks the body's own cells and organs. Usually the immune system makes antibodies, or proteins to protect the body from foreign substances such as bacteria or viruses. In HSP, these antibodies attack the blood vessels. The symptom of HSP includes kidney involvement.
2. What will happen when kidneys are involved by HSP?
Hematuria is a common sign that HSP has affected the kidneys. Proteinuria-large amounts of protein in the urine-or development of high blood pressure suggests more severe kidney problems.
3. What is the treatment for kidney problem from HSP?

Immunosuppressive medications
HSP that affects the kidneys can be treated with corticosteroid and immunosuppressive medications. Immunosuppressive medications prevent the body from making antibodies.
High blood pressure medications
Kidney patients with high blood pressure need to take medications that lower their blood pressure and can also significantly slow the progression of kidney disease. Angiotensin-converting enzyme (ACE) inhibitors and angiotensin receptor blockers (ARBs) have been proven effective in slowing the progression of kidney disease.
Immunotherapy is an unique and advanced treatment in our hospital. It combines western medicines and Chinese medicines. There are six steps in Immunotherapy including Immune Diagnosis, Immune Clearance, Immune Blockage, Immune Protection, Immune Tolerance and Immune Regulation. Immunotherapy is a therapy which reverses your poor immune system and uses the normal immune system to fight against the HSP. Besides, Immunotherapy can enhance your kidney function through dilating blood vessels, improving blood circulation, preventing inflammation and coagulation, degrading extracellular matrix, providing nutrients and removing immune complexes out. Immunotherapy is a radical treatment for Purpura Nephritis.
How to protect kidneys from HSP? The above has given you suggestion. Immunotherapy is natural and radical treatment for HSP. If you want to treat your condition from the root, you can try our Immunotherapy. But it is only available in China. Foreign patients need to come to China for treatment.