Purpura Nephritis from Barbecue: Get Treated By Chinese Medicines
2015-11-25 08:34
Although someone likes barbecue very much, he has not eaten barbecue for 4 years because he is a purpura nephritis patient. He should keep far away from barbecue and beer. Too much barbecue and beer will produce lots of uric acid and urea nitrogen as well as other metabolic wastes, which will put more burden on your kidney's excretory function. Besides. Drinking too much is easy to cause hyperuricemia, result in hyperlipidemia and kidney disease.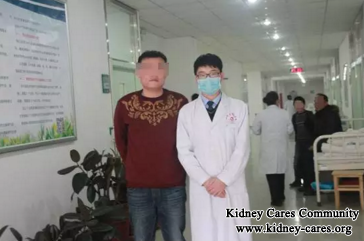 Recently our hospital-Shijiazhuang Kidney Disease Hospital admits a patient with Purpura Nephropathy. This patient recalled that one night he had barbecue and drank some beer with his friends. At the midnight, he had some stomachache and found that there were little red stains in his legs and arms. He also had some dizziness. The next morning, the red stains were some bigger. He went to hospital and took a check up. The medical reports show urine protein and occult blood were both negative. The doctor told him he is suffering from Purpura Nephritis.
He said the urine protein returned to normal within one month but relapsed soon. After 3 years gone, urine protein level was still high.
When he came to our hospital, his urine protein was 2.98g which is really higher than the normal range.



In our hospital, experts arrange some Chinese medicines for targeted treatment. After 14 days of Chinese medicines, purpura disappeared and he was discharged from hospital.
At home, he still take Chinese medicine treatment for consolidating the curative effects. He calls our doctor and says his occult blood become negative and urine protein is decreasing further.
Three months later, he comes to our hospital for recheck up. Urine protein and occult blood become negative. 24-hour urine protein quantity also returns to normal.


Treatment used for Purpura Nephritis in our hospital is Four One Chinese Medicine Treatment including Mai Kang Mixture, Oral Taking Chinese medicines, Micro-Chinese Medicine Osmotherapy and Foot Bath Therapy. This systematic therapy can not only discharge wastes from the body but also repair injured kidney cells and improve kidney function. Four One Chinese Medicine Treatment is nowadays the latest therapy for Purpura Nephritis. If you happen to have this disease, it is worthwhile to have a try of it with the instruction of our online doctor.
Our Treatment Effect
Move the mouse to enlarge the picture
This patient suffers from Purpura Nephritis and has many red spots in his legs before our treatment. After our Chinese medicine treatments, he got great improvement. His red spots disappeared. See the effect from the above pictures.