Purpura Nephritis: Proteinuria+- and Occult Blood 2+ Turned Negative Without Steroids
2016-06-23 07:51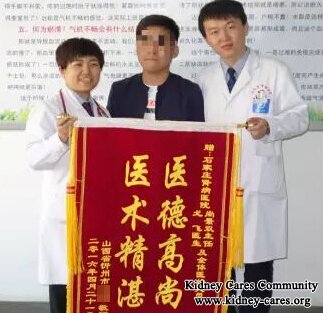 Henoch-Schonlein Purpura (HSP) is a systemic vasculitis, which is characterized by deposition of immune complexes. If those immune complexes deposit in the kidneys, they lead to Purpura Nephritis. Conventional treatment is to use steroids to inhibit kidney inflammation and reduce proteinuria so as to prevent further kidney damage. But for many patients, this kind of treatment is not effective enough for them to have a good control of their disease. Now let's have a look at Hua's case. His proteinuria +- and occult blood 2+ turned negative without steroids. What treatment he is receiving? Go on reading, you will get the answer.
9 months ago, red rash suddenly occurred on Hua's legs with abdominal pain, so he went to hospital for physical examination. Test reported that he was diagnosed with Purpura Nephritis. After one month's steroid treatment in the local hospital, his state of illness is stabilized. After discharging from hospital, he kept on steroid treatment for one month. And it seemed that everything went to normal.
But half a years ago, a cold brought all kidney disease indicators positive. He felt it was low immunity that caused its relapse, so he took it lightly. But the following tests reported all results were positive. At that time, Hua realized that steroid treatment was no more good choice for his Purpura Nephritis. He tried many kinds of other treatment, but all were in vain.
In Shijiazhuang Kidney Disease Hospital, 24 days' treatment helped his proteinuria and occult blood turn negative.
At last, he came to Shijiazhuang Kidney Disease Hospital. Test reports show that his proteinuria was+-, and occult blood was 2+. Considering that steroids and immunosuppressants have so many side effects, our doctor made a treatment plan consisted of only Chinese medicine.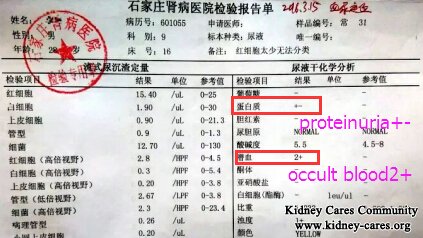 This set of treatment is our characteristic treatment——Toxin-Removing Treatment. It can help cleanse the accumulated waste products from the blood. It can also draw toxins outside of the renal cells. Besides, it can decompose the deposited immune complexes in the kidneys and remove them out of the body. After a short period of treatment, you will see there are changes in your urine. It will become cloudy, which indicates that toxins are removed out. After a long period of treatment, kidney function will improve gradually. With the improvement of kidney function, all indicators of kidney conditions will return to normal. Look! Hua's test report. Both his proteinuria and occult blood turned to negative.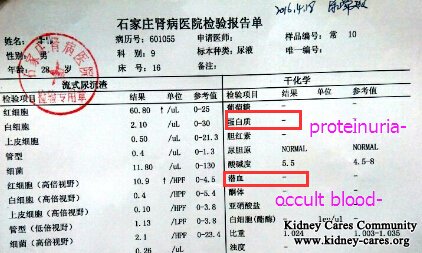 Steroids are no more the only choice for Purpura Nephritis patients. If you have the similar case as Hua or your state of illness is more severe, you can try our Toxin-Removing Treatment. But you have to come over our hospital for treatment. For more information on our treatment, please leave a message below or consult online doctor directly.
Our Treatment Effect
Move the mouse to enlarge the picture
This patient suffers from Purpura Nephritis and has many red spots in his legs before our treatment. After our Chinese medicine treatments, he got great improvement. His red spots disappeared. See the effect from the above pictures.