How Does Micro-Chinese Medicine Osmotherapy Help PKD Avoid Dialysis
2017-09-14 07:31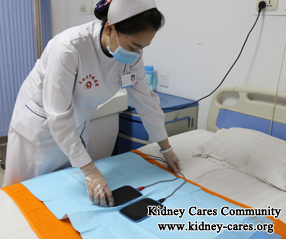 Hi, I have PKD but not yet on dialysis. I would like to know more on the treatment with Micro-Chinese Medicine Osmotherapy.
OK before introducing our treatment to you, I first need to know your condition.
Polycystic kidney is a genetic disease so is there anyone who also suffers from this disease in your family?
My mom, my second youngest brother age 44 years and my sister. All pass away. My sister passed away 9 days ago age 50 years.
That is terrible. I am sorry to hear that.
That is ok. Thanks for your concerning.
What symptoms do you have now?
Yes now I mainly have back pain and sometimes blood in urine.
What treatment are you taking now?
My doctor just prescribed me some painkillers in case of my severe back pain. He told me I had to wait for dialysis. There was no treatment for PKD.
In your country and other countries, there is really no medicine or treatment for polycystic kidney. However, in China-Shijiazhuang Kidney Disease Hospital, our expert team creates an advanced and unique Chinese medicine therapy for PKD. That is Micro-Chinese Medicine Osmotherapy which is used externally. Chinese medicines are micronized into powder and then put into two medicated bags. The osmosis machine helps the active ingredients of Chinese medicines arrive at kidney lesion directly. Patients just need to lie on bed to take this therapy. It is just like a massage and feels very comfortable. Osmotherapy helps shrink kidney cyst, stop its growth of kidney cysts and improve renal function gradually. At that time, your condition will be controlled well.
That is a good remedy. But must I come to China? Do you have any branches in Pakistan?
Sorry. Nowadays there is no branch in your country. But in the future we will build a hospital or clinic with your country.
That will be very good.
Yes, contact us via kidneycares@hotmail.com or 008618330110929 for further communication.